Q&A: Punk Trio Coliseum Return to SF to Rock Thee Parkside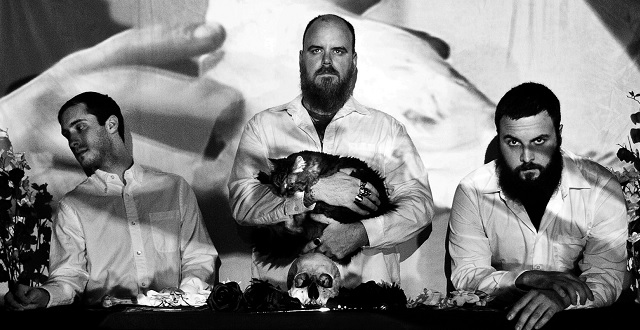 Southern punk band Coliseum invade San Francisco for the second time in 2015, playing at Thee Parkside on Friday, July 31.
Fronted by singer and guitarist Ryan Patterson, Coliseum have been creating post-harcore music for more than a decade. Their latest album, Anxiety's Kiss, was released back in May via Deathwish Inc and their upcoming SF show marks nearly the midpoint of their current tour supporting the record.
Five previous Coliseum members have left the band to pursue other opportunities, but the current three-man combination of Kentucky-born Ryan and his Alabama band-mates, drummer Carter Wilson and bassist Kayhan Vaziri, have solidified the group, committing to a shared mission.
We spoke with Ryan about the history and development of Coliseum, grinding on tour and the band's current outlook.
What was your musical upbringing like being from Kentucky?
Kentucky, in terms of music in general, didn't have a huge effect of me growing up. [However] Kentucky's punk hardcore and indie rock scene all had a big effect on me. I wasn't really aware of Louisville's music scene as a kid. I grew up 45 minutes south. That's where I discovered punk and alternative. I was in my own world down there. I didn't realize there were local scenes. I knew there was a Washington D.C. scene and realized there were Southern California scenes. I didn't really quite understand those things existed anywhere else. You could do it yourself, but I didn't realize how big they could be regionally.
When I was 14 or 15, old enough that my friends could drive, we would go to Louisville and that's when we discovered Louisville bands. Going to record stores, seeing flyers, and scanning records. I got involved in Louisville's music scene when I started going to shows and saw local bands. I got more involved and became a part of it. I kind of became an insider or to some people more of like a flag bearer of Louisville music. That was a long process of many years of feeling like a weird outsider. It wasn't like something that was handed to me or I wasn't really birthed into it or grew into it. I was a strange kid from another town that became part of something by building his own thing. It was huge for me but also for very ostracizing as music communities can be if you're not from the same place. It's hugely important to me.
How did Coliseum first start?
The band formed in Lousiville in 2003. Carter, our drummer, joined the band in 2009 through mutual friends. We had played Birmingham a lot. My brother, he actually suggested Carter because he had played with one of Carter's bands in Birmingham. My brother had happened to see him play and thought he was wearing a Coliseum shirt, but I think it was another band but in my brother's mind it was a Coliseum shirt. Through mutual friends I got in touch with Carter, I asked him to try out, and it was perfect so he joined the band.
In 2012, Kayhan, our bass player joined. He has been best friends with Carter since elementary school. That just worked out. They've been friends their whole life. It's one of the things how people from other states or countries can become friends through happenstance and meeting on the road. And two of them being best friends, it's a more organic thing. Friends being band members often don't work out. The band started with one of my very best friends in bands. He couldn't do it anymore. That's how it goes when you're in a band for a long time. Luckily he got work out of it for many, many years and we have a solid lineup at this point.
What are your memories from playing in San Francisco?
We've come through so many times. We came through in March at Bottom of the Hill with Old Man Gloom. We've been playing San Francisco and Oakland for like over a decade. It's been great. It's interesting. When you're a small band like when we started out, it was so hard to get a show in the city, in San Francisco. That's how it was when we started. It was impossible to get a show in Boston, New York, LA. We'd always play in the outskirts of the city or the suburbs. Anywhere we were able to get a show. Anytime we got a show in the city was huge. Getting there is the first step, but then getting people to show up was the next step. Some people say just stay in the suburbs as long as you can because sometimes there's something to be said for small shows at the smaller places.
I really like San Francisco. I have great friends from home who live there from when we first stated playing. Those are my earliest memories of being out there are staying with friends. I remember being there for a New Year's Eve in one of our early bands I was in with my brother at the Embarcadero and seeing the fireworks. We couldn't get a cab back to my friends house and had to walk the whole city. Of course it's not that big but it's hilly so it's a pain in the ass to walk. I've always dug [San Francisco]. There's a ton of great bands from there. Lot of good stuff going on. Great history. It's great. I always have a lot of friends there. It's cool and a great place to be.
How do you like to spend your down time when on tour?
Of course, these days it's different because we've all got our phones. Our roadie is a really great photographer. He did photos from the tours a few years ago. Half or more of all the photos of the downtime are of all of us looking at phones. It's so boring now. I do design work. Sometimes I like to do a lot more creative things on tour if I can get there where I can be clear enough in my head to actually do something creative on the computer or jot down ideas or lyrics or song titles. We're all huge fans of movies, we're all watching movies we can't see at home. Especially in a big city. If I'm in New York, I'm always going to the IFC Center and watching a movie. That's like a number one thing to do if we actually have enough time, like three to four hours, we always see a movie. It's hard. Tour is like black hole for you in a way. So much time but never enough time. It's a weird thing where you're kind of never alone and it's hard to make a phone call. Finding time alone is basically walking off to a corner and sitting on a curb.
The main point is to play the show. The other point is to see friends. Sometimes if I'm frustrated or down about touring. If I didn't do this, I wouldn't get to see people. Whether I see them for 30 minutes or a whole day. It's hugely important part of what makes this meaningful. The other huge part is to play the show. That's the entire mission of the day. Ultimately it's all that matters on that day is to play the show. It's a weird thing because so much is put into it. If anything goes wrong, it kind of fucks it up. If you're off or the audience is off, or if it's at the wrong place. It's very difficult. It's frustrating, especially for a small band that's been going for a long time. There's so much wrapped up into it.
For me personally, I've put so much stock in it. Not only do I work a lot, but every night I'm thinking not only have I been working my whole life for this, very specifically 12 years in Coliseum for this moment. Every night I feel we've been working all those years for this show. There's a lot wrapped up in that. Being in that head space is overly intense, but it works. When we're playing and it's transcendent, its beyond playing instruments and becomes really special. Musically I feel like we've been doing that a lot lately. Reaching a zen I didn't know we could reach. Interacting with people after the show, even if it's on a relatively small level, it's important. That gives me fire and keeps me focused.
After the show happens, my adrenaline is pumping and i'm happy and talkative and awake and here and in the moment. Two hours later I'm really worn out, crash and ready go to sleep. It's really wild. It's a really strange head trip on tour, playing shows, doing the whole thing. It's a weird scenario. A unique thing to dedicate your life to. You can't quite put your finger on. You can't hold it in your hand. There's something about it your drawn to and you put everything into it and its very important you keep following that mission.
Where has been the most meaningful show Coliseum has played so far this year?
The one that pops to my head. My friend in Ottawa runs Ottawa Explosion. It's an extended weekend festival in Ottawa. It's not like a festival in the way that most festivals are now. It's kind of a smaller punk but focused festival. It's not like a big scaffolding stage fiasco. It's a small thing, clubs, and a really good friend of ours is one of the main guys behind it. He's been asking us to play starting four or five years ago and we could never make it out. We finally played it this year and it was so great. It was really meaningful. We got there and the vibe and the energy was so different from all these other things we've been to. You're not just part of this assembly line. This time, this time, do this, do that, pick-up your check, go here, go there.
It was really great. There was a huge, wide variety of bands involved. It wasn't all male members. Going on tour, night after night, it's always all dudes in bands. It was great to see a wide variety of people involved, from performing to the people involved in putting the festival together. And not intentionally. That was just who they have as part of the festival playing and organizing. That's part of the community and that was inspiring. It was a great, beautiful vibe. I'm very proud with what they've done and I felt very honored to be involved.
What are your goals for the remainder of 2015?
I'm not sure. We do this tour and we're going to go to Europe in the fall and that's all. To a certain extent, for a band that's our size, you kind of do what you can do and then you kind of have to leave certain elements up to chance or whatever. We'll do the full North American headlining tour, go to Europe, and from there see what other opportunities come along. It's kind of difficult for me because I always like to be charging ahead and mapping out our own course. Hopefully we'll play with some other bands.
In the meantime, I'm sure we'll be doing all sorts of other creative things. We're trying to do videos for all the songs on the record. We've already done four. One of my goals is to make videos for all the songs on Anxiety Kiss. Release a DVD or Blu-Ray. I don't know. There's always ideas of creating things. Every release or video we do or whatever is is an art project. As long as we can sell enough to break even. I'm sure we'll do something like that. Something always comes up. Ultimately the mission is the goal and we don't try to look to far ahead.