Free SF Porchfest Celebrates Music, Community in the Mission and Noe Valley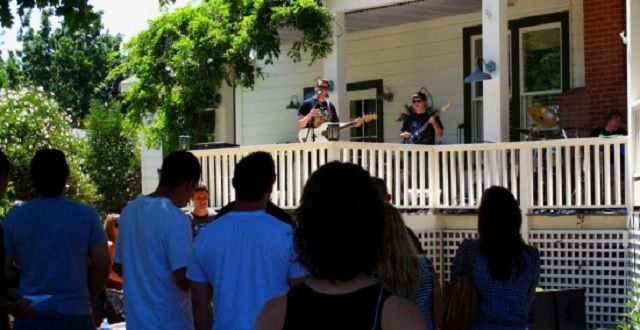 52 bands are confirmed to play at 17 different, unique venues on Saturday, May 9, as part of the inaugural SF Porchfest. This event hopes to reflect the creativity and diversity of San Francisco by pursuing musical acts from a variety of genres, ages, backgrounds, ethnicity, and levels of experience, from novice to professional.
Organizer Beth Gould told SF Station, "Porchfest is a day to laugh and listen to live music on someone's front steps, to talk with people you don't yet know. To just slow things down on a Saturday afternoon in May."
Fellow organizer Liz Pittinos also reflected on the city's first-time event by saying, "In a city like San Francisco, you can go years without meeting people who live down the block from you. And lately there is a lot of polarization in our community – between long-term residents and new arrivals, between renters and owners, between people from different economic backgrounds. Porchfest is a day to feel good about our city and our neighbors, to celebrate the creativity and diversity of the city we all love. We believe Porchfest can bring people together in a new way, and can be a catalyst for community-building going forward."
It's hard to single out any particular band from the amazing lineup, but a few worth mentioning are The Barefoot Band, Leksure, The California Sons, The Blind Willies, Amelia Romano, and Ad Hoc Brass Band. There is seriously a ton of talent. Check out the nearly complete lineup and porch map below.
Complete Lineup
The Wronglers – Oldtime/Bluegrass
Freight – Folk
Sweet HayaH – Rock/Soul/Funk
Deborah Crooks Band – Americana
Amelia Romano – Latin Electric Harp & Vocals
Jeanie & Chuck – Bluegrass and Honky Tonk
Monica Fimbrez/Soul Y Agua – Latin Neo-Soul
Amity Rose and the Dead Cowboys – Americana/Jazz/Folk
La Gente – Reggae/Cumbia/Hip-Hop
Sayers – Indie Rock
Nobody From Nashville – Bluegrass
Colonels of Truth – Americana/Bluegrass
Leksure – Hip Hop
The Barefoot Band – Solo Americana
Baroque Rogues – Baroceltic Trad
West Coast Wildfire – Soulgrass/Americana
West Side Jazz – Jazz
Daniel Seidel and Jessica Lynn of Secret Town – Americana/Folk/Rock
The Bitter Diamonds – Modern Outlaw Country
The Sand People – Rock
Three Drink Circus – American Quirk Rock
PMS – A Capella Vocals
Soundwave Nebula – Psychedelic
Willie and Allie- Country
Hella Wicked – Acoustic Vocal Goodness
The California Sons – Alt Country
Blind Lemon Pledge – Acoustic Blues
Duran Visek – Acoustic Indie-Pop
Mission Hill – Americana/Bluegrass
Devon McClive and Sons – Folk Rock/Gypsy Jazz
Tess Veiga – Solo Guitar/Vocals
Eschew – Singer/Songwriter
Lila Blue – Folk
Three Old Guys
Low Self Esteem Players – Rock
Rob Bayne Band – Original Soul/Blues
Undeciders – Classic Acoustic Rock
Jono & Georgia Jones – Acoustic
Kool Whip – Rock/Pop/Blues
Trixie and the Skates – Indie Pop
Cosmic Knot
Blind Willies – Folk Rock
Thunderegg – Rock
Bob Barner – Acoustic
Hot Weather – Rock and Roll
Kim Lembo – Blues, Roots
Visit the event's website for the latest updates.