Review: Tennis Shines at The Independent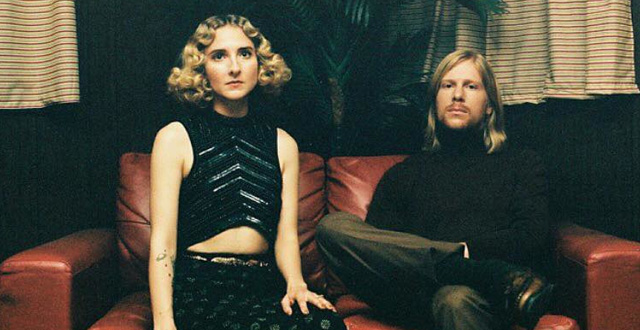 A haze of heat wave-induced summertime nostalgia was heavy amongst the crowd as Denver's husband-and-wife duo Tennis took the stage on Thursday night at The Independent. Ailana Moore and Patrick Riley looked like a couple straight off of a Babysitter's Club book cover, with Moore rocking mom jeans and a new curly bob and Riley on guitar sporting shaggy beach blond locks. "I got a mom haircut," Moore confessed. "This is the same exact haircut my mom had in 1991."
They kicked things off with "Never Work For Free" and "Timothy," two songs off of their latest album, Ritual in Repeat. They then jumped into "Marathon," a catchy tune from their first album Cape Dory that instantly sent the crowd jumping and singing along. Moore teased the audience, "Oh, we know this one!"
While fans adore the laid-back jams on Cape Dory with good reason, Moore's vocals have clearly evolved beyond their sugary indie doo-wop sound and embraced a fuller, more impassioned cadence that sets her center stage. The duo's sound seems to have matured along with their underpinning themes. After falling in love in college, Moore and Riley married, sold everything they owned, and set sail across the Eastern Seaboard, thus garnering their origin story the title of "music legend" by nearly everyone that's reviewed them. But while the nautical themed lyrics and sun-drenched sound of Cape Dory is inspired by their adventure, the real passion and complexity of their journey is felt in later songs like "It All Feels the Same" and "Petition," off of their sophomore album, Young and Old. Moore sang them to the crowd with a loving urgency, backed by Riley's salty guitar riffs.
Later, Riley took over on keyboard while Moore grooved hypnotically at the front of the stage for "Mean Streets," then sent the crowd into a sweaty ass-shaking frenzy with the pop-rock anthem, "I'm Calling."
Finishing with a soulful performance of "Origins," Tennis left the stage, only to return seconds later for an encore. "We just did a bunch of drugs," Moore joked as someone in the audience blew a perfectly timed plume of smoke that settled overhead and twirled in the red spotlights. With Riley on the keyboard, Moore got on her knees at the edge of the stage and reached out to the audience, serenading fans with a bewitching charm both sultry and motherly as she crooned the lyrics to "My Better Self": "Each and every portent / Of bitter substance spent / Despite the effort I have planned / You seem to lose what I've meant."
Introducing their final song of the evening, "Bad Girls," Moore confessed that the lyrics she wrote were almost too personal to share before she and Riley put them to music. Their accompanying band left the stage for a stripped down version of the song, allowing Riley's guitar skills to shine as he locked eyes with Moore, whose words were clearly meant for him: "You know I love a good ceremony / That's why I chose matrimony."
A deluxe edition of Ritual in Repeat featuring the bonus tracks "Easter Island" and "100 Lovers" drops May 12th on Communion Records.