Emancipator, STWO, Sweater Beats to Headline Once Upon A Festival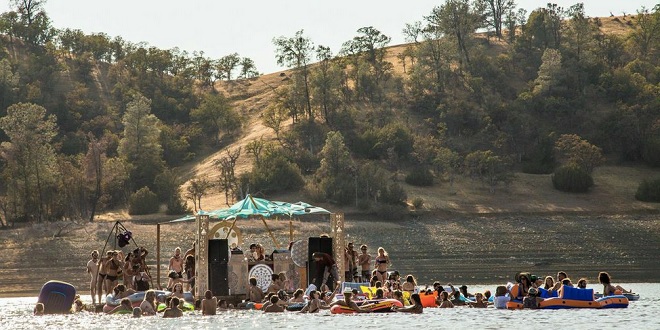 Portland-based electronic producer Emancipator, French beat maker STWO and Brooklyn bedroom producer Sweater Beats will headline the 2nd Annual Once Upon A Festival, June 12-14 at East Park Reservoir.
Formerly known as Foreverland, this new festival recently unveiled a massive initial lineup, a hand selected collaboration from the producers of Envision, An-ten-nae Presents, Lucidity, Enchanted Forest & Raindance. Once Upon A Festival is about a three hour drive from the Bay Area. Located on a beautiful lake, it's the only west coast festival to feature day-time programming on a floating stage.
Additional participants on the initial lineup include San Francisco's acid crunk act An-Ten-Nae and a special performance from the Desert Hearts Crew with guests Atish, Sabo and Bells & Whistles. Other noteworthy local acts on tap to perform include Oakland-based future bass duo Dimond Saints as well as Santa Cruz's Smasheltooth and The Pirate. See below for the current lineup. Tickets are on sale now.
In addition to 24/7 music on Funktion 1 and Void Systems up on a Pirate Ship Stage and Tree House Stage, there will also be art, yoga, workshops, swimming and a Healing Temple Tea Lounge. For more information, you can find the current lineup below. Visit onceuponafest.com for more information. RV camping and car camping passes are available for purchase. East Park is in northwestern Colusa County, approximately 110 miles north of San Francisco and about 75 miles as the crow flies northwest of Sacramento.
Initial Lineup
Emancipator
Stwo
Sweater Beats
Random Rab
Dimond Saints
Coyote Kisses
An-Ten-Nae
Kalya Scintilla & Eve Olution
Desert Dwellers
The Funk Hunters
Desert Hearts Crew, with special guests Atish, Sabo and Bells & Whistles
More to be announced…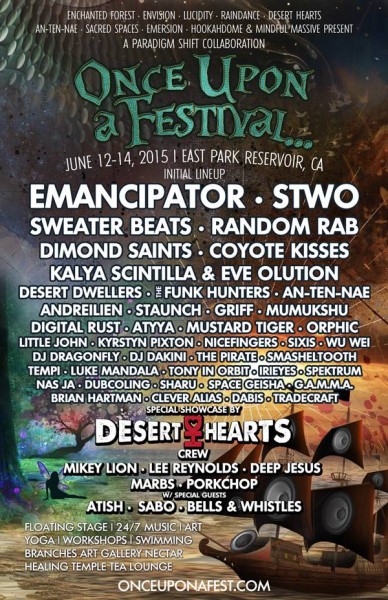 Last year, Emancipator debuted for his four-piece Emancipator Ensemble in San Francisco, transforming his one-man trip-hop act into a full blown band.