Review: Cold War Kids at Mezzanine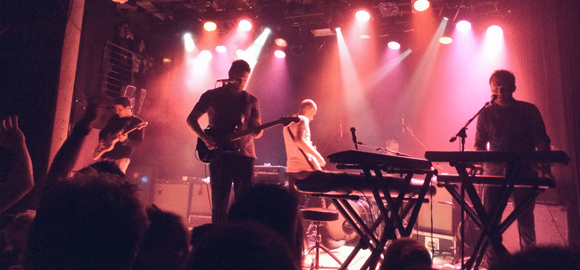 The Cold War Kids rocked the sold-out crowd at Mezzanine on Friday night, performing a blend of new tunes and old favorites. The show got off to an explosive start with "All This Could Be Yours" from their newest album Hold This Home (Oct 2014).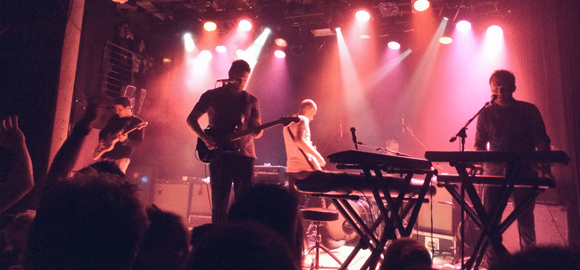 "Miracle Mile," "Hotel Anywhere," and "Louder Than Ever" kept the energy up before frontman Nathan Willett finally addressed the crowd, apologizing for the rescheduled performance. Originally, CWK were booked to play on December 11th for Live 105 Club NSSN, but due to "Stormageddon," they had to cancel. "But was there even a storm, guys?" he asked before jumping right into crowd-pleaser "Royal Blue."
Their newer music is undeniably more approachable, structured, and predictable. Both Robber & Cowards and Loyalty to Loyalty showcased a band that demanded to be heard. Willett's gritty and honest lyrics flowed in and out of loose rhythmic piano melodies and pounding drum accompaniments. Eight years later, The Cold War Kids are producing songs with more straight-forward and traditional structures. Not that there is anything wrong with the progression of their sound – on the contrary – their most recent single, anthemic "First" was unquestionably one of the most popular songs of the evening. But something magical seems to have gotten lost as the band matures. Blame it on the tight nature of their set, or the fact that they've performed their earlier songs thousands of times, their confidence has clouded some of what used to make them so appealing – a delicious blend of imperfection, honesty, and dirt.
Perhaps that's getting too nit-picky though because The Cold War Kids are more popular than ever. Despite their more mature voice, Willett continues to captivate with his unapologetic gesticulations, Matthew Schwartz slams the tambourine and maraca together, and the crowd eats it all up.
The night finished off with the title track "Hold this Home" (Arcade Fire-ish, anyone else?) and oldie but goodie sing-along "Hospital Beds."
Full Set List for 1/16/2015
All This Could Be Yours
Miracle Mile
Hotel Anywhere
Louder Than Ever
First (Anthemic)
Royal Blue
I've Seen Enough
Hot Coals
Hang Me Out to Dry
We Used to Vacation
Drive Desperate
Audience
Hold My Home
Hospital Beds
—
Minimum Day
Something Is Not Right With Me