Arguably no one had a better year than SF Giants pitcher Madison Bumgarner, who set a career high with 18 wins this past season and won his third World Series championship, earning him Sports Illustrated magazine's 2014 Sportsman of the Year Award and an awesome cover photo.
Bumgarner, also known as "MadBum" to his legions of fans, is the the seventh Major League Baseball pitcher to win the honor and the first San Francisco Giant to do so. In Game 7 of the 2014 World Series, MadBum relieved starter Tim Hudson two days after throwing a complete game, 117-pitch, four-hit shutout in Game 5. He proceeded to give up up only two hits and strike out four batters with no walks over five innings.
His legendary performance, now etched into baseball lore, helped cement a SF baseball dynasty with three World Series titles in five years. MadBum is one of a few players who contributed in all of them.
Since the award's inception in 1954, Sports Illustrated has annually given the "Sportsman of the Year" award to "the athlete or team whose performance that year most embodies the spirit of sportsmanship and achievement." The actual trophy is a ceramic urn depicting Greek athletes.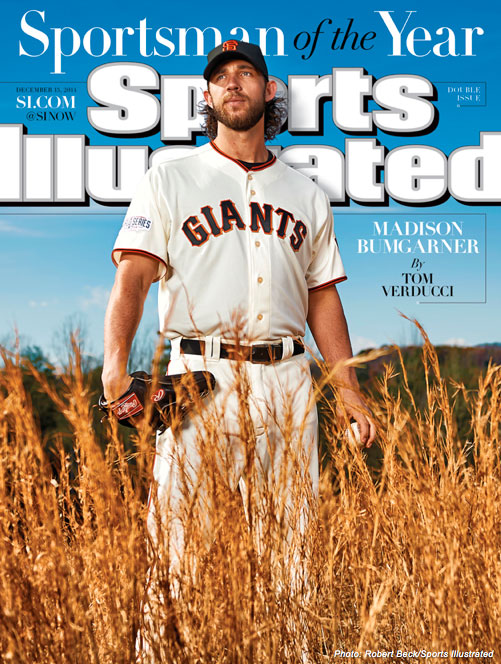 Previous Sportsman of the Year award winners:
2013: Peyton Manning
2012: LeBron James
2011: Pat Summitt, Mike Krzyzewski
2010: Drew Brees
2009: Derek Jeter
2008: Michael Phelps
2007: Brett Favre
2006: Dwyane Wade
2005: Tom Brady
2004: Boston Red Sox
2003: Tim Duncan, David Robinson
2002: Lance Armstrong
2001: Randy Johnson, Curt Schilling
2000: Tiger Woods