Fan Photos and Notes From the 49ers Season Opener at Levi's Stadium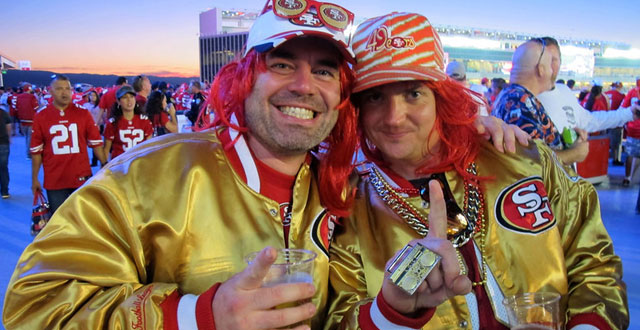 The 49ers showed off Levi's Stadium on Sunday with their first regular season home game, unfortunately fans left unimpressed with the action on the field with a 28-20 loss to the Chicago Bears.
The Niners faithful were ready early on Sunday when parking lots opened for tailgating four hours before the Sunday Night Football prime-time game. Inside they were joined by some of the biggest names in the team's history, including Joe Montana and Jerry Rice, who christened the stadium with a blast from it's fog horn just before the first quarter.
Notes and observations:
-The fog horn sounded throughout the game, first signaling tailgaters to enter the stadium and later after each Niners score. With Karl the Fog tending to prefer San Francisco over Santa Clara, maybe the Apple start-up sound or Yahoo! yodel would be more appropriate. Think of the franchising opportunities.
–Perhaps players listened a little too closely to Snoop's three-song surprise halftime show with "Drop it Like it's Hot." The 49ers finished with four turnovers.
–The Yahoo Fantasy Football Lounge lived up to its name. It was a football fantasy with quality finishes and comfortable table seating, multiple monitors on almost every wall, larger windows that offered close views of the field, and craft beer and cocktails. The lines were short and for those willing to pay $10.25 for a drink, several local breweries were on tap.
–We didn't have a chance to try the Levi's Stadium app, but our friends say it was awesome. Fans can order food and beer directly to their seats. The WiFi worked great, as well. Cell service was occasionally spotty, but it was far from the black hole of no service at Candlestick.
–It was a noticeably different crowd inside and outside Levi's Stadium than the scene at Candlestick. The thug element that was sometimes at the old stadium was gone on Sunday. It seems the team's less refined fans were either priced out with higher ticket prices (standing-room only tickets start at $85 for some games) or they couldn't make the trip to Santa Clara.
-Getting to the game on Caltrain was relatively easy and comfortable. We opted for the early "Baby Bullet" express train instead of the later game-day train and had no trouble getting to the tailgate party. Coming home was a different story. The train hit every stop from Mountain View to San Francisco and final travel time was more than two hours. If the team is keeping "San Francisco" in name, it should make it easier for fans to make the trip down the peninsula.