7 Tips for Perfect Homemade Ramen From Eat Drink SF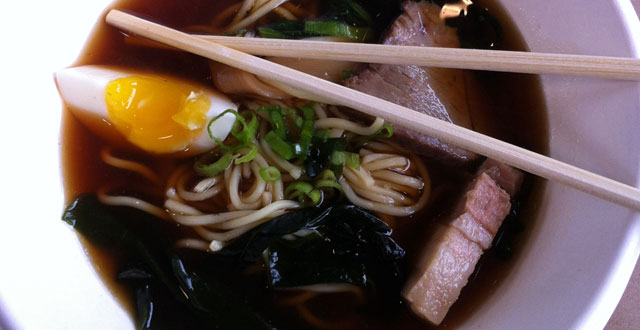 Eat Drink San Francisco hosted a ramen workshop on Sunday, just one of many culinary adventures part of the multi-day celebration of fine cuisine and cocktails.
Moderated by Fine Cooking magazine and lead by the quick-talking, metaphor-firing Thy Tran of Wandering Spoon and the Asian Culinary Forum, the workshop demonstrated noodle preparation techniques while chef Ken Tominaga of the recently opened Ramen Bar shared tips and observations.
Seven tips we learned for the perfect bowl of homemade ramen:
[bra_list style="colored-counter-list"]
Make your own noodles. With the help of a food processor and a pasta machine, plus a few special purchases, this is not as intimidating as it sounds.
For the noodles, two ingredients are crucial – alkalinized water (known as 'Kansui') and potato starch, according to Tran's recipe. Both can be bought in Asian supermarkets. The alkalinized water will give the ramen noodles their signature yellow color and earthy fragrance; the potato will ease the kneading process and prevent noodles from sticking, without leaving a greasy mark on the broth.
For six servings of noodles, mix one cup hot water, two tablespoons kansui water and and one tablespoon salt. Process 3.5 cups of unbleached all-purpose flour in the processor, add 3/4 cups of the liquid mixture and process until moist. Continue working with the processor adding a teaspoon of water at a time, until the dough forms small, smooth balls. Kneed by hand, wrap in plastic and let the dough rest in the fridge—an hour minimum, 3 hours are optimal. Roll thin through the pasta machine, coat in potato starch and roll again, this time using the thin-cutting filter. Make sure to keep a small pile of starch right where the noodles come out, to prevent sticking. Keep refrigerated or boil immediately.
Cook noodles separately from the broth, dunking them decisively, but not all at once, into boiling water. Add to the ramen right before serving.
Ramen broth has many faces and nuances. Chef Tominaga prefers the lighter, aromatic Tokyo-style 'shoyu' broth. The base is soy sauce, mirin, sake and scallions, plus sweeter tamari soy sauce and rice vinegar to finish. Additions include spinach, wakame seaweed and thinly sliced pork.
To achieve the soft, silky egg, Tominaga suggests cooking the egg for 5-6 minutes, then marinating the cooled-down, peeled egg in the broth base overnight, before cutting in halves and serving – this will ensure intense flavor and great coloration.
When making your ramen with fatty ingredients, such as pork belly, refrigerate the soup overnight, then skim the fat from the top of the pot, reserve and serve only a few drops in each plate, after reheating. This will ensure a light ramen that doesn't require an afternoon nap. As for alcohol, Japanese beer—and not sake—is the ultimate companion. Slurping noises are mandatory, and so is uninhibited enjoyment.
[/bra_list]