Big changes are on the way for Yoshi's in the Fillmore District after a new owner was announced for the jazz venue and sushi restaurant.
UPDATED,  JUNE 4: A representative of Fillmore Live Entertainment Group says Yoshi's San Francisco will be rebranded with a new name 90-120 days after the change of ownership is finalized on July 1.
"We will be rebranding it to a new name," says Michael Johnson, a member of the ownership group and president and CEO of UrbanCore Development. "That's probably the most substantive change and the second most substantive change is the food menu."
Johnson says Fillmore Live will be updating the venue's image to move away from its reputation as a sushi and jazz venue. The venue will likely feature a more eclectic music lineup, similar to the range of genres found at nearby Fillmore Auditorium. The group has not yet decided on how the food and drink menus will change, but it will not food offerings will not be sushi or Japanese cuisine.
"Yoshi's has been doing other forms of music other than jazz for many years, but it's still kind of known primarily as a jazz club," Johnson says. "Part of our marketing effort will be to redefine the position of this venue in the marketplace as a live entertainment, music and comedy performance venue."
"A lot of things could be happening there without the subtext that it's a jazz club and in the Fillmore Jazz Preservation District," he says.
UrbanCore Development was developer for the Yoshi's San Francisco construction project in 2005-2006 and the company leased the restaurant/venue to Yoshi's San Francisco. The UrbanCore also a co-owner of Yoshi's San Francisco with its investment group, but was not involved with day-to-day operations.
Another priority for Fillmore Live is building a better connection with the surrounding neighborhood, Johnson says.
"Some members—not the majority—of the local community don't feel like it has had a connection with the local community," he says. "I think that is something we can improve on."
Peter Williams, former entertainment director at Yoshi's Oakland for more than 10 years and entertainment director for the first year of Yoshi's San Francisco, will return to do booking at the rebranded venue.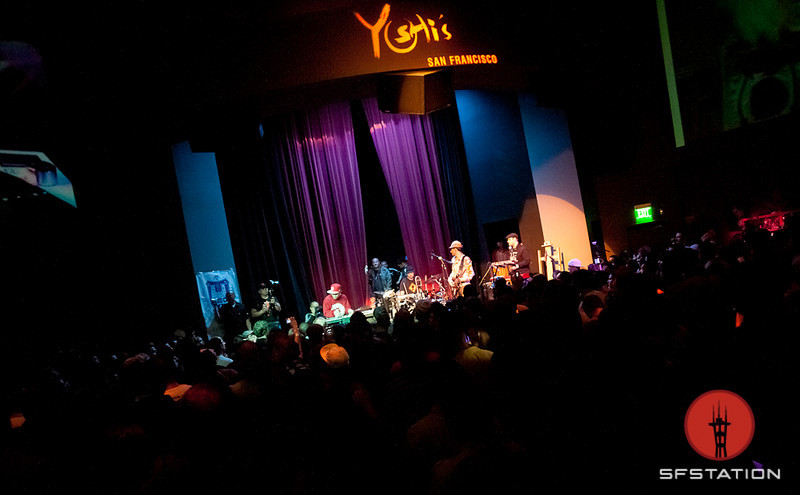 JUNE 3 REPORT: Effective July 1, Fillmore Live Entertainment Group will assume ownership of the venue and restaurant that opened as an expansion of Yoshi's in Oakland in 2007.
"This transition provides the opportunity to implement exciting plans for the future including re-branding the entire concept. This will include more diverse music programming, a new food and beverage menu, and creating a dynamic guest experience," said Michael Johnson, Managing Partner of Fillmore Live Entertainment Group in a statement announcing the ownership change. "While Yoshi's SF, has achieved substantial success over the last 6 years, this is a tremendous opportunity to build on that, and position this venue in the marketplace for even greater success in the future."
Bob Burke of Ovation Consulting Restaurant + Hospitality will oversee operations with the group. Burke's previous experience includes positions at Gordon Biersch, Piatti, Pat Kuleto Restaurants and Forge.
The new owners are expected to keep the Yoshi's San Francisco name for the immediate future and there are no immediate plans to change the live music, food or beverage program, according to the announcement. Representatives could not immediately be reached for comment.
Yoshi's Oakland will continue with the same ownership and dining and music options it has offered since it opened 40 years ago.
Since it opened in San Francisco in 2007, Yoshi's has hosted some of the biggest name in jazz, hip hop and other genres, including George Clinton, De La Soul, Sheila E., Dave Chappelle, Roy Hargrove and many more.
Photos from De La Soul's March concert at Yoshi's by SF Station photographer Abe Coloma.