Q&A: Phillip Taylor of Paws Prepares for West Coast Debut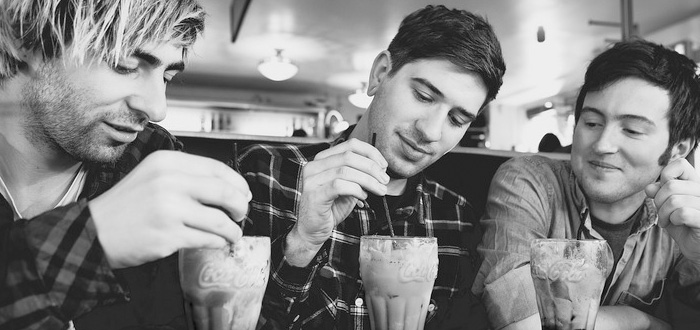 Glasgow rockers Paws are slowly sinking their claws into the U.S. With gigs at last year's SXSW getting attention from national publications like Spin, and gigs with Wavves and the Breeders, the group is  launching its West Coast tour.
We caught up with the lead singer Phillip Taylor to talk about recording the band's new EP in New York, touring with Japandroids, and sight seeing in San Francisco. Paws perform at Café Du Nord on November 25th.
The video "Teenage Breeding," seems like an homage to a certain cat. Was this cat responsible for your band name?
Nope! The footage from the Teenage Breeding video was shot on our first run of UK dates outside of Glasgow. The cat in the video lived in this huge house in Liverpool that we stayed at after our show. The house had like three floors and had around ten people staying there that were all artists either staying/working in Liverpool or just staying for a few months as they worked on projects. It was really cool. I slept in a big living room and the cat was hanging out in there so I shot a bunch of footage of him. He was a cool guy.
You have toured and played with some pretty big names, including Japandroids, Wavves and the Breeders. What's been on of your most memorable touring moments?
Touring with Japandroids was certainly one of the best times we've ever had. It was like a big traveling family. It was our first tour outside of the UK and they taught us so much about how to function as a touring band. They really looked out for us. Brian even gave me a guitar flight case that he had owned for a long time as all I had were stupid soft cases that were damaging my guitars. They are the best people and their ethic in a great inspiration to us.
We've opened for a lot of bands, but I think my favorite people to play with have been the Breeders, Fucked Up, Cloud Nothings, No Age, Bleached and Japandroids.
Is there anyone in particular you'd love to tour with?
I'd love to have done a full tour with the Breeders. To watch them play every night would be pretty incredible.
You are recording your new record in New York. Do you think recording there has had an influence on the record?
Well, not too much. The record was all written before we went into the studio so we just had to go in there and record it. Although, we were joined in the studio by a girl from Brooklyn called Isabel Castellvi who put down some cello on three of our songs. So I guess that's a little piece of New York on this record that makes it really lovely.
How's the record coming?

The record is done! We're really pleased with it. It just needs to be mixed now, which I'm really excited about as Peter Katis will be doing the mix work for the record. Yeah we had cello put down on three of the tracks and I'm totally stoked on how it's turned out. It's given the songs a really nice sombre/mournful texture that adds a cool little bit of character to the songs.
http://youtu.be/DlnrBQJ1evI
You have announced some West Coast dates. What is your experience playing on the West Coast?
This will be our first trip to the West Coast and I've been so, so excited about making it out to you guys for a long time. So it's all a new experience to us, but we've heard lots of stories of what to expect and there are lots of things we want to see and do so it's going to be really exciting all round. We've played with a lot of bands that are based out on the West Coast, so it will be cool to finally see these places.
Is there anything in particular you guys want to do while you're here?
Never been to San Francisco but it's one of those places I've always longed to see. I'd really like to try and see some Margaret Kilgallen pieces in the Mission (if any are still around). She's my favorite artist and I know that she painted a few murals, etc., around SF. I guess, other obvious stuff like the Golden Gate Bridge, and I'd love to drop by Thrasher Mag's office and annoy Jake Phelps. haha
If you could play any venue in San Francisco, which would it be and why?
The Filmore. I've heard so much really cool stuff about that place. I had a Death Cab For Cutie DVD and they played a show there that was filmed. It looked really cool and sounds like a super legendary place, so I'd have to say there, I think.
You played SXSW and were voted in the top 50 best live acts by Spin Magazine. How was your first time playing that festival?
It was pretty full on. We played 10 shows in 3 days, so I was completely and utterly exhausted. By the 9th show (a party for Vans opening for The Thermals, Frightened Rabbit and METZ) I was completely done in and fainted from heatstroke/dehydration/exhaustion. It's such a great festival and we didn't want to go out there and do it in half measures. It really was as good as everyone says it is, it's just a little intense to play that many shows in such a short space of time. I'd totally go back and play, but just maybe do like half as many shows this time.
It seems like you're a big fan of art. Who does your artwork?
We've had a number of different friends do artwork for us, but I guess the main two that have done record covers and T-shirts have been Erin McGrath and Jessica Penfold. They are really talented UK based artists. Some other awesome people that have done T-shirts for us have been Jill Collins, Babak Ganjei and Sophy Hollington.
You did a cool rendition of Elliott Smith's "Needle in the Hay." Have you played acoustic shows before and do you play any other covers?
Yeah, I've done one or two solo acoustic shows back in Scotland between touring. It's really fun to play covers. We usually play at least one in our set, but it changes up all the time. Right now we are doing "Needle In The Hay" on this U.S. tour.
When we toured with We Are Scientists back in the summer, on the last night of the tour both bands all set up at the end of the show and we all played Tired Of Sex by Weezer. It was so much fun. We also like to cover songs that our friends bands have written because it's good to not just be shamelessly promoting yourself all the time, when you could be telling some people about other bands/artists that they might like, you know?
Refused or Rammstein?
Refused
Good Answer.