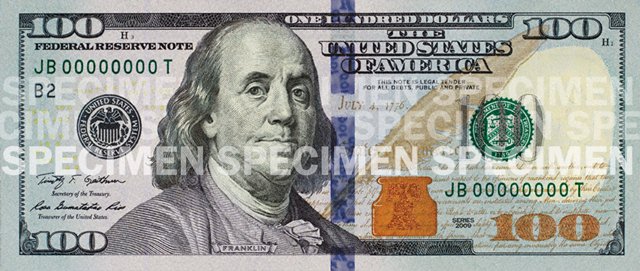 The Federal Reserve today introduced a new $100 bill with a rebooted design into circulation today in an effort to fight counterfeit bills.
"The new design incorporates security features that make it easier to authenticate, but harder to replicate," said Federal Reserve Board Governor Jerome H. Powell in a statement today. "As the new note transitions into daily transactions, the user-friendly security features will allow the public to more easily verify its authenticity."
The new bill features a larger bust of Benjamin Franklin, off-centered and filling the space almost from top to bottom. A blue 3-D security ribbon with images of bells and 100s, and a color-changing bell in an inkwell are also significant changes designed to reduce counterfeits.
Distance, demand, and the policies of individual financial institutions will influence how quickly the redesigned notes reach businesses and consumers around the world, according to a press release from the Federal Reserve. The roll-out of the new design is unaffected by the federal government shutdown because the Federal Reserve is not funded by Congress.
Is this a design improvement or will you miss the old design?