As strong as the craft beer movement has hit San Francisco and the East Bay, there are plenty of "beer geeks" in Silicon Valley as well. And the newest beer haven that opened earlier this year is Steins Beer Garden in Mountain View.
Owner Ted Kim points out that despite the name, Steins is a restaurant first. Executive Chef Colby Reade describes his menu as "gourmet American comfort food," saying he didn't want to be stuck with the gastropub or bar food designation. "Our menu is seasonal and we try to make everything in-house as much as possible. From the bread to the sausages, we do a lot of pickling as well," said Reade.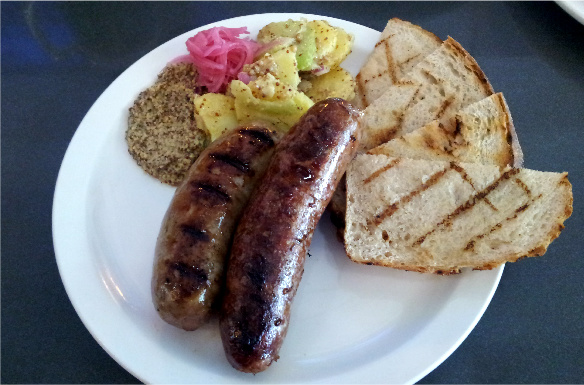 As they prepare for their first Oktoberfest celebration (held on October 5 & 6), Reade said he is also starting to introduce some German food on the menu, from a nice sausage sampler to fresh baked pretzels and even mini bratwurst corndogs. In fact, the restaurant launched a special Oktoberfest menu earlier this month that runs through the celebration – it features spaetzel, schnitzel, smoked Bavarian-style pork shoulders and Oktoberfest chicken with potato dumplings.
The Oktoberfest event, in partnership with the Mountain View Chamber of Commerce and Tied House, is the city's first event to celebrate the German tradition. Held in the open-air parking lot behind Steins (at Bryant and Dana streets), there will be plenty of authentic German fare along with the largest German beer tap takeover in the Bay Area. The event is also kid-friendly, with a bouncy house, face-painting and a pretzel eating contest as well. The celebration takes place on October 5 and 6 from 10:00am – 6:00pm.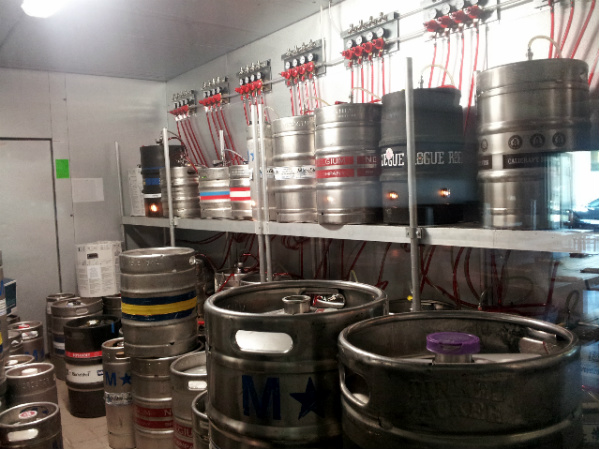 Along with owning Steins, Kim serves as the main beer expert. "I learned like a lot of other people do, by drinking a lot of beer when I was younger," Kim said. "I eventually took it a little more seriously and learned about the different types of beers. It took me to Europe, where there is a real appreciation of beer." Kim also knows the importance of educating his entire staff about the 30 beers on tap (31 if you count the secret tap), as he said he wants them to be able to lead guests in the right direction.
Unlike some other locations, Kim is not hyper-local in his beer selections, instead creating a well-rounded mix of beers of all different varieties. He makes sure to have a staple list, but often changes the taps weekly, depending on if he finds something he likes or something a bit more unique and rare. "This area was really yearning for a place like this, that celebrates the craft beer culture. Not to take anything away from some of the other beer spots, but there are so many fans of craft brewing in Silicon Valley, there's even a Google beer club that are regulars here."
The space is large, with some private rooms inside that work well for businesses looking to host clients. And despite some early opposition from neighbors, the outdoor beer garden is up and running, with its very own keg system. Kim and Reade said they hope to build on events like Oktoberfest, inviting the beer community to come together and enjoy what Steins has to offer.
Steins Beer Garden and Restaurant is located at 895 Villa Street in Mountain View. It is open on Sundays from 11:00am – 10:00pm, Monday-Thursday from 11:00am – 11:00pm and on Friday and Saturday from 11:00am – 11:30pm.