Fillmore Street Welcomes New Izakaya Restaurant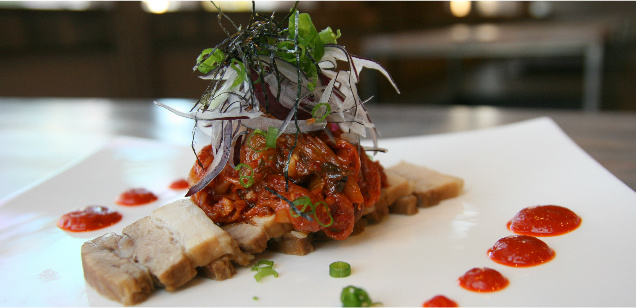 There is a brand new food option for those looking to grab a bite to eat before or after a show at The Fillmore or Kabuki with the opening of Izakaya Hashibiro Kou.
Executive Chef Nick Yoon heads the kitchen. Born and raised in Seoul, South Korea, and having worked in the restaurant industry for more than 15 years, Yoon's cuisine is a mix of time spent at notable restaurants and hotels in Korea, along with a nod to the Bay Area.
While the menu is still evolving, it will feature about 50 items or so, with featured dishes like Salmon Skin Tempura (salmon skin with scallions), Tako Wasabi (chopped raw octopus with wasabi), Tofu Temptation (soft tofu topped with Korean-style shikara, oshinko and uni) and Buta Kimchi (pork with kimchi). The menu will allow for plenty of shared items and works great for groups to pick and choose several different dishes.
As is the case with most izakayas, drinking will also accentuate what is sure to be a lively atmosphere. There will be a cocktail program, with sake-based drinks, along with champagne and wines.
The owners were going for a "modern zen design" hoping to create a warm environment for guests, with the walls and tables in the restaurant made from refinished wood. There will be four separate seating areas (the restaurant will seat about 75-80 people in total) in the bar, the lounge the main dining room and more intimate tatami rooms, meant for smaller groups who would like to dine in private.
Izakaya Hashibiro Kou will also have late night hours on weekends. The restaurant will be closed on Mondays, but open Tuesday, Wednesday and Sunday from 5:00-11:30pm and from Thursday-Saturday from 5:00pm – 1:00am. The restaurant is located at 1560 Fillmore Street (between Geary and O'Farrell).