A little red Radio Flyer has turned into much, much more for Robyn Sue Fisher, founder of Smitten Ice Cream, who is now expanding with two more locations in the Bay Area.
Fisher is taking her one-of-a-kind "Brrr" machines, formerly named Kelvin, to an undisclosed location in Los Altos and the Rockridge neighborhood of Oakland. She said both spaces will be equipped with full kitchens and the hope is to open sometime this fall (September or October).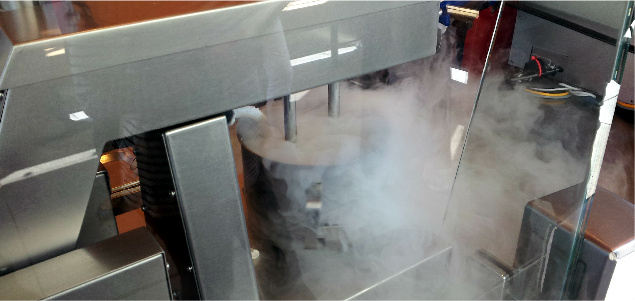 With the bigger facilities (both will be brick-and-mortar locations), Fisher and Smitten's resident pastry chef Robyn Lenzi will have the ability to expand the Smitten menu. One of the newest treats – Smitten's very own version of an ice cream sandwich. The yet-to-be named item (although they are playing with the name Smitten Brrrger) currently features Brioche from Greg Mindel of Neighbor Baker. Once both spots open, different varieties of Brioche will be made in-house and combined with different flavors of ice cream.
"Most ice cream sandwiches have to be frozen. With the texture of our ice cream, we felt Brioche would work perfectly, meshing with the ice ream to match its consistency," said Fisher.
The Smitten team said they have been scouring and scouting new locations for awhile and felt both neighborhoods fit in perfectly, as growing and vibrant areas.
And San Francisco ice cream fans – have no fear. The Smitten spot in Hayes Valley will remain open, despite the two new locations.