Bay Area Fourth of July Fireworks and Parties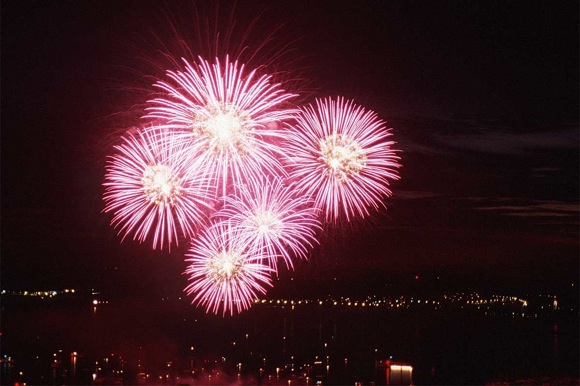 The fourth of July is nearly upon us. And while there may be lots of places to BBQ and party over the long weekend, the real star of the holiday are the fireworks. Here's a complete list of fireworks throughout the Bay Area with some of the best parties in San Francisco.
SAN FRANCISCO

Pier 39
Pier 39 hosts one of the largest Bay Area Fourth of July celebrations with an entire afternoon of live music and family friendly activities before a massive fireworks show. Dancing begins at 2pm and local cover band Tainted Love hits the stage around 4pm. Fireworks are scheduled to start at 9:30pm, and it looks like the fog might cooperate this year. Plan on arriving early to secure a good spot for viewing.
Alcatraz
For those who really want to bring in the Fourth of July in style (and have the cash to dole out), then Alcatraz tours are offering a 4-hour cruise on a flagship yacht around the Bay that includes a four-course meal, an open bar, live entertainment and a one-of-a-kind view of the fireworks. 6:30pm – 11pm. $244.
Cheap & Free Option
You don't need to shell out hundreds of dollars or venture to Fisherman's Warf to get a great view of the fireworks. Here are some easily accessible spots from where you'll be able to take in the festivities for free: Bernal Heights Hill, Mount Davidson, Corona Heights Park, Tank Hill and, of course, Twin Peaks.
EAST BAY

Berkeley Marina
Berkeley will be hosts a celebration with live music, art & crafts, food and free dragon boat rowing from 2pm to 6pm. Fireworks are at Berkeley Pier at 9:30pm. Note: No cars in or out after 7pm. Thursday, July 4, 2012. 12pm – 10pm. 201 University Ave. Berkeley, CA 94710. (510) 548-5335.
Concord
There will be a host of July 4th events in Concord for the city's annual 4th of July Jubilee including a 5K run and walk, a parade (8:30am), and food (traditional pancake breakfast and hot dog lunch) and drink booths at a town festival in Todos Santos Plaza (until 3pm). Fireworks start at 9:20pm. Best viewing is in the park at the Singing Flag (performance starts at 7:30pm) or across the street at Westwood Elementary Park, Concord Bl. & Mendocino).
Richmond
The Oakland East Bay Symphony will perform at Richmond's Crane Way Pavilion. The live music lineup begins at 6:30pm with Hilltop Community Church Choir and Oaktown Jazz Workshops. At 8pm, the Oakland East Bay Symphony will begin with a fireworks show over the Bay to close the program.
SOUTH BAY

Shoreline Amphitheatre
A 4th of July Fireworks Spectacular with the San Francisco Symphony – gold medal music, sonic gymnastics, and fireworks accompanied by the Orchestra.
San Jose Giants Fireworks
Not to be confused with the SF Giants, the San Jose Giants will host a post-game fireworks display on both July 4th and July 5th. San Jose Municipal Stadium, 588 East Alma Avenue, San Jose, CA.
NORTH BAY

Marin County Fair
The Marin County Fair features five nights of fireworks, including traditional fair activities, such as carnival rides, arts and crafts, farmers market, farm animals, horse shows, a petting zoo, science exhibits and music. The fair is open from 11am-11pm. The fireworks take place every night of the Fair, shot from three barges over a lagoon.
Sausalito
Sausalito hosts for a full day of 4th of July celebrations. Festivities will begin at 10am with a parade down the streets of Sausalito beginning at Second and Main Street in old town Sausalito. The parade route will wind along Bridgeway and Caledonia and end with a town picnic at Dunphy Park at Noon. The celebration moves to Gabrielson Park at 6:30pm with live entertainment and end with a s show of fireworks on the San Francisco Bay at 9:30pm.
Napa
Independence Day festivities arrive at Napa County Fair with live music, strolling entertainers, competition for blue ribbons, an antique truck and tractor show, a 4th of July parade and fireworks. A free fireworks celebration will also be held in downtown Napa at Veteran's Memorial Park.
PARTIES
Fourth of July Boat Party
The anchor is up and the party in on the San Francisco Bay on the Spirit of Sacramento for a Fourth of July cruise featuring seven DJs in two rooms on the boat. A buffet is included with admission. The cruise leaves Pier 40 at 5pm and returns at 10:30pm.
Lights Down Low 4th of July Body High at Monarch
The Body High Records and Lights Down Low crews keep the party going late night and until the early morning with Jerome Lol, Samo Sound Boy and DJ Funeral working the decks with the hottest holiday dance tunes.
DJ Hero at Temple
DJ Hero plays a wide range of music, spanning house, breaks, trance and just about everything in-between. He spent the early part of his career playing shows up and down the east coast and holding residencies in Florida, Georgia, Michigan, and Tennessee. Now producing his own music, party-goers looking for late-night dancing should consider Temple club to get their holiday ya ya's out.
Red, White & Rosé Celebration at the Winery on Treasure Island
For the third consecutive year, a $15 admission at the Winery on Treasure Island includes a tasting flight of wines and free lot parking. It's easy to walk to the waterfront once the sun goes down for an incredible view of the fireworks.
Independence Day BBQ at Hemlock Tavern
Polk Gulch favorite Hemlock Tavern host Apopka Darkroom and Peace Creep for an afternoon BBQ and concert. The bar opens early at 1pm for a free barbecue, with bands scheduled to start around 5pm.
After Dark: Boom at the Exploratorium
Adults ages 18 and up can discover the science behind fireworks and learn how implosions are different from explosions. The Exploratorium's After Dark: Boom celebrates Independence day with rumbling, roaring and spectacular supernovas, sonic booms, earthquakes, and even some taiko drumming. Expect to learn lots and see tons of exiting resonant experiments appropriate for the holiday.
Giraffage at Rickshaw Stop
Since the Fourth of July usually doesn't draw a ton of concerts, Giraffage is probably the best scheduled shows in town. The 23-year old San Francisco-based producer brings a fresh collection of lush experimental beats, utilizing sample-rich sounds with dreamy pop beats and sensual synths. Attendees can enjoy an evening full of looping guitar and 808 beats.
Bernie Worrell Orchestra at Yoshi'sYoshi's keeps the holiday funky with iconic keyboardist Bernie Worrell, a member of Parliment/Funkadelic during its peak years in the 1970s.
Carlos Olin Montalvo contributed to this report.