Roka Akor Opens in Jackson Square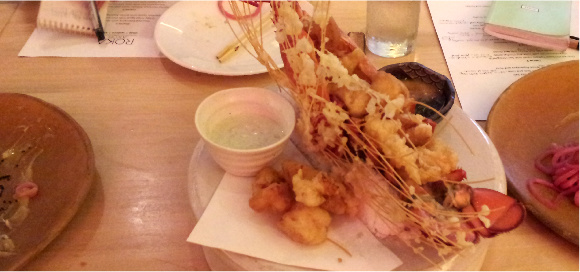 A restaurant with a Japanese flair that is part steakhouse, part seafood and sushi haven, Roka Akor is opening its doors in Jackson Square on Thursday.
The restaurant, which already has locations in Chicago and Scottsdale, is being led in the kitchen by Executive Chef Roman Petry. Having worked in restaurants around the world, Petry has an extensive background in Japanese cuisine. He said the robata grill in the open kitchen will be the centerpiece of the entire operation. "This will be where the energy of the restaurant comes from. There is no hiding space in our kitchen. We want everybody to be able to see everything," Petry said. "Most of the food will come from the robata grill, not only meats, but fish and vegetables too. We want to have a very open kitchen, where our guests can come up to us and talk to the chefs, ask questions. And the main thing – we want them to be able to enjoy the experience and have fun."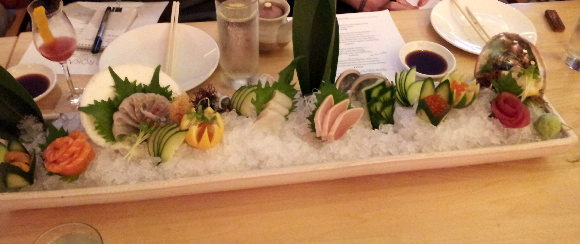 The menu is diverse, featuring everything from sushi and sashimi (fish is flown in from Japan four times a week) to several different items from the robata grill. Chef Mike Lim, formerly of Morimoto in Napa, handles the sushi and sashimi, utilizing items like Himalayan Rock Salt to further accentuate each piece of fish. Much of the nigiri is flavored appropriately so guests don't have to use soy sauce. Perhaps even more impressive is the presentation, whether its on wooden planks or the beautifully plated deluxe sashimi platter.
The robata menu features a variety of steaks (including three different variations of wagyu), seafood like black cod and king crab and veggies and sides. The use of the robata for an item liked the Sweet Corn with Soy Garlic Butter or the Charred Heirloom Tomato Salad gives each a unique flavor that would not be seen under normal circumstances. Petry is even using different mixtures of charcoal for certain dishes, to give each a different flavor profile. Although most of the fish is sourced from Japan, Petry is staying local for many of the other ingredients. "We want to utilize everything from around here, sourcing products from local farms and such. Being local is important. It's having and building relationships with farmers and producers, winemakers," he said. Also part of the culinary team is Pastry Chef Alexander Ruiz, who most recently worked at REDD and Redd Wood in Napa Valley. The dessert menu is unique and focused quite a bit on local and seasonal produce (think plenty of fruit-based dishes).
But the food is just part of the equation at Roka Akor. Just as exciting is the unique bar program, led by Daniel Hyatt, formerly of The Alembic Bar. Known for his superb whiskey selection at Alembic, Hyatt is featuring many rare Japanese whiskeys. In total, he expects to have about 150-170 spirits on his list. In trying some of his cocktails, they vary in terms of the spirit used and whether they are lighter and more refreshing or more spirit-driven, depending on which cocktail you choose. There will also be an extensive wine list (in the neighborhood of 200 bottles, 20 by the glass). With the Japanese nature of the menu, Hyatt is also working heavily with shochu and sake. "It's been exciting to experiment with those spirits to get to know them better. I've always been fascinated by the spirits of Japan and am excited about learning about all the different varieties  and their nuances," Hyatt said. Expect 6-7 infused shochu to be on the menu, some mainstays and other rotating depending on the season, with 20-30 premium sake as well.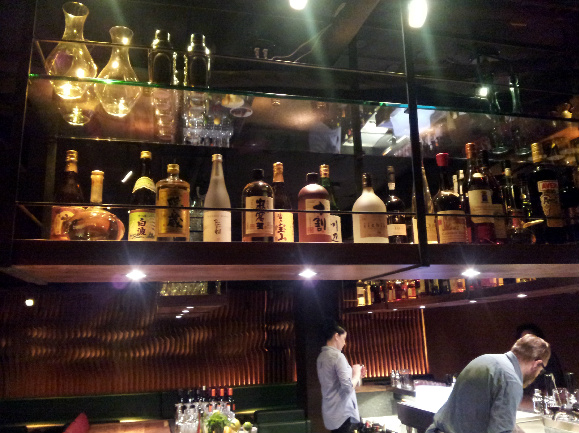 "We want Roka Bar to be an oasis from the Financial District, a chance to get away. We want to avoid the stuffiness of other bars. There will be plenty of space (about 75 seats) with nooks for smaller groups as well," said Hyatt. "This is our take on a classic steakhouse bar. We're here to serve, make people comfortable and have them feel like they're at home." There will also be a separate smaller bar menu, although upon request, guests can also order from the main menu.
The two story space (main restaurant on top, bar below) has a very modern and hip feel. The open kitchen serves as the centerpiece upstairs, with a few seats at the counter, a glass-encased private room, communal table and chef's table. The bar has plenty of lounge seating and several seats at the bar itself. For such a large restaurant, the space feels very open and homey.
Roka Akor opens on Thursday, June 27. Opening hours will be Sunday-Thursday for dinner from 5:30-10:00pm and Friday and Saturday from 5:30-11:00pm. Lunch will be available from Monday-Friday from 11:30am – 2:30pm. Roka Bar will be open from 3:30pm – 12:00am Monday-Thursday, 3:30-2:00 on Friday, 5:00-2:00am on Saturday and 5:00-12:00am on Sunday. Roka Akor is located at 801 Montgomery Street, at the corner of Jackson Street.