Blue Angels Grounded Means Cuts For Fleet Week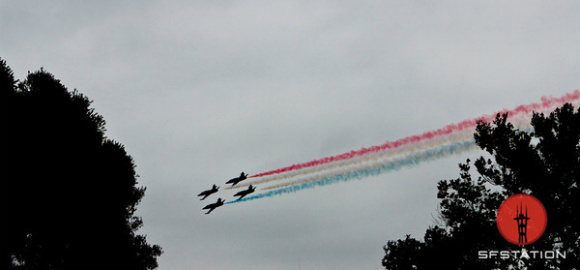 The latest example of the damaging federal cuts from sequestration came out this week with the cancellation of 2013 flying shows by the Blue Angels, including at this year's Fleet Week in San Francisco.
We hinted at this possibility once the federal budget cuts kicked in and it came to fruition on Tuesday as the U.S. Navy announced that the rest of the upcoming 2013 air shows would have to be canceled.
Major General Mike Myatt, chairman of the San Francisco Fleet Week Association, said in a statement Wednesday that "Fleet Week events will continue but that the air show has been canceled and tickets will be refunded within 72 hours." He said that while the event will still be held, "activities will be scaled back," this year. It's still not known exactly how scaled back Fleet Week will be as city officials are trying to firm things up with the Navy to see how the sequestration cuts will affect the event.
The Blue Angels and subsequent air show and demonstration are normally the biggest draw at Fleet Week, which annually brings a million visitors to San Francisco.