San Francisco Free Street Fair and Festival Guide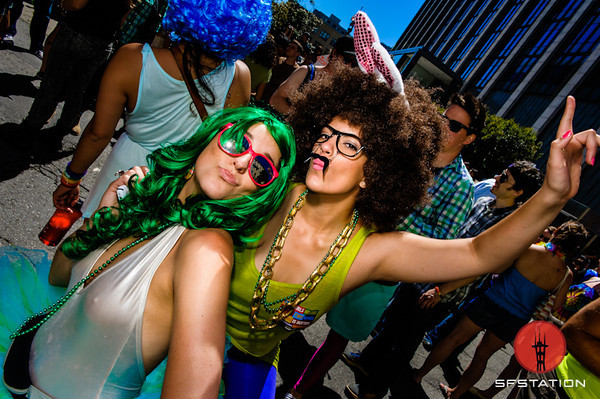 Spring in San Francisco means festival season has officially arrived. From April through October, a variety of free events are held in neighborhoods throughout the city.
From kinky (Folsom Street Fair) to family friendly (Union Street Eco-Urban Festival) and fun (Bay to Breakers), there's something for everyone in every corner of San Francisco.
September 21: Superhero Street Fair
Reality meets fiction at the Superhero Street Fair, where attendees are invited to arrive as a superhero with their own Superpower. It may sound silly at first, but the fair was also created to honor people and organizations in the Bayview District. Expect otherworldly costumes, visual artists, music, performers and, of course, lots of action.
September 29: Folsom Street Fair
Not for the timid, Folsom Street Fair celebrates San Francisco's diverse sexual culture and draws crowds to Folsom Street in their best leather, rubber and fetish attire—or with not much clothing at all. With about 400,000 people expected on 13 city blocks, there's plenty to look at. Photos.
September 21-22: Polk Street Blues Festival
Focusing on free blues music, this mellow festival on Polk Street is a good option for those who like to boogie but can't hang with the large crowds that some of the other street parties draw. Expect to find two main stages, a merchants' marketplace, a large family area, and plenty of music. Photos.
October 4-6: Hardly Strictly Bluegrass Festival
With several large stages throughout Golden Gate Park, Hardly Strictly Bluegrass draws more than 500,000 people annually with big headliners and lesser known acts. From Emmylou Harris to Bright Eyes and Robert Plant, the lineup features an eclectic mix of acoustic music legends and top musicians from other genres. Photos.
October 6: Castro Street Fair
The Castro Street Fair has been held at Castro and Market streets on the first Sunday in October each year since the fair was founded by Harvey Milk in 1974. Expect lots of entertainment, including music, dance, comedy and variety shows, as well as tons of local art and food. A favorite exhibitor of previous years, Barnaby's World of Wonderment, features sword swallowers, burlesque dancers and other wild performers. The Castro Street Fair puts extra special emphasis on costumes, encouraging attendees to dress in their wildest outfits, which also makes for some great people-watching.
Earlier this year:
April 13-14 and April 20-21: Northern California Cherry Blossom Festival
For two weekends, Japantown welcomes spring with the Northern California Cherry Blossom Festival, featuring food booths, cultural performances, martial arts, live bands, the annual Cherry Blossom Queen program and a Grand Parade.
April 28: How Weird Street Fair
The How Weird Street Fair prides itself as a festival where attendees can let their freak flag fly. The SoMA District street party features some of San Francisco's most popular DJs and nightclubs, which hold after parties once the street action is over. Organizers encourage wild costumes and there is plenty of food, drinks, and live and exhibited art to keep the party going.
May 18: Asian Heritage Street Celebration
The Annual Asian Heritage Street Celebration in San Francisco's Little Saigon neighborhood is a public commemoration of Asian American culture. The "Faces of Asia" cultural procession invites everyone who would like to dress in ethnic attire to participate in the walk and gives fairgoers an exciting view of a parade of beautiful traditional and contemporary costumes from an array of Asian cultures. Another special feature of the Asian Heritage Street Celebration is the art that will be showcased throughout the Arts & Crafts World Market area.
May 19: Bay to Breakers
Bay to Breakers is San Francisco tradition that is more "fun" than "run" for participants who get decked out in their wildest costumes (or wear nothing at all). The always-crazy 12k race—it's been held in San Francisco for more than 100 years—starts along the Embarcadero before cutting across the city and ending on the Great Highway at Ocean Beach. There's a fee to register, but many people crash the course for free. Photos.
May 25-26: San Francisco Carnaval
San Francisco Carnaval is a parade and festival held during Memorial Day weekend in the Mission District. Whether it's foggy or a classic hot day in the Mission, there's always plenty of skin and Latin-flavored beats. The parade Sunday features costumes, dancing and floats and even a few neighborhood lowriders. The festival on Saturday and Sunday at Harrison Street is packed with several stages for music and dance performances and local artists, vendors, street food and family-friendly activities. Photos.
June 1-2: Union Street Eco-Urban Festival
San Francisco's Union Street Eco-Urban Festival takes is an alcohol-free event—thanks to some unruly bros in years past—that transforms Union Street into a sustainable, green haven. The annual festival focuses on eco-friendly exhibits and features arts and crafts booths, food vendors, and two stages with live entertainment. Photos.
June 9: Haight Ashbury Street Fair
The Haight Ashbury Street Fair is a celebration of the old-school Haight Street hippy ethos—peace, love and happiness. The festival draws big crowds with six blocks of vendors, food, arts and crafts, as well as three stages with live entertainment and activities for families with children. Photos.

June 15-16: North Beach Festival
North Beach Festival boasts one of the country's longest running street fairs. Like other San Francisco festivals, there will be plenty of street vendors selling food, arts and crafts, and multiple stages with live entertainment. Features of the North Beach Festival you're not likely to find anywhere else include the blessing of animals at The National Shrine of Saint Francis of Assisi, and Italian street painting. Photos.
June: 29-30: San Francisco Pride Celebration
A week of festivities celebrating LGBT culture in San Francisco culminates with the Pride Parade and party at the Civic Center. The celebration is the largest LGBT gathering in the nation. Get ready for an enormous party, with a large parade, 300 exhibitors and 19 stages and venues. Several events are held throughout the city during the week leading up to the weekend.
July 6-7: Fillmore Jazz Festival
The Fillmore Jazz Festival is the largest free jazz festival on the West Coast, according to organizers, offering multiple stages and eight blocks of food, beverages, and all kinds of jazz. Bars and restaurants along Fillmore Street join in with live music and specials. Photos.
June 27-28: J-Pop Summit Festival
More than 60,000 people head to Japantown for a celebration of Japanese pop culture with two days of fashion, live performances, film and dance competitions.
August 3-4: Nihonmachi Street Fair
This Japantown street fair celebrates Asian-Pacific culture, San Francisco style, with a variety of entertainment, ranging from Taiko to hip-hop, salsa and jazz.

August 4: Jerry Day
Katie Kopacz contributed to this report
[Photo Credit: Party people at the SF Pride Festival. Photo by Attic Floc.]