A New FiDi Lunch Option at Shorty Goldstein's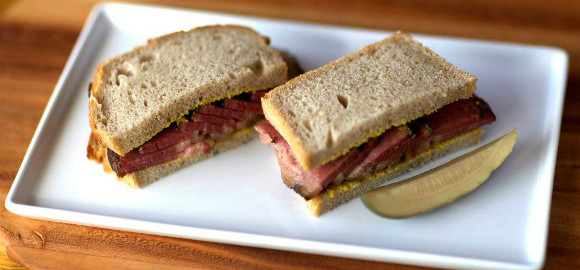 As many people who work in the Financial District can attest to, lunch options are oftentimes a tough thing to come by. But San Francisco's newest Jewish deli, Shorty Goldstein's is hoping to change that.
Chef Michael Siegel, former chef de cuisine at Betelnut, heads the small kitchen. He said the project is something he has been working on for a few years. "I wanted to get back to my roots, fall back in love with food. So I decided on this concept because this is the food I grew up with," Siegel said.
After scouting locations for the perfect spot, securing funding and perfecting the menu items with Chef Alex Ong (of Betelnut) as a "taster," he settled on the Financial District, feeling there was a real need for what he calls a "farm-to-table Jewish deli" in the area. The menu features everything from sandwiches (pastrami and corned beef are among the regulars), salads and soups (matzah ball), to traditional homey items like latkes, Nanna's chopped liver, pot roasted brisket and what Siegel calls his signature menu item, Shorty's potato knish. "In my family, the knish was like the holy grail. My great grandmother Shorty would make it only on special occasions. It has a special place in my heart." The menu also features daily special sandwiches and Siegel said the beef tongue sandwich on Thursdays has been a surprising hit thus far.
Despite the limitations from a small kitchen, Siegel and his team make it a point to cure and smoke the meats being served, allowing for a very unique and somewhat unexpected flavor. Along with sprinkling in some family recipes, the focus is on quality and using fresh, local ingredients whenever possible. Eventually, the menu will have a more seasonal feel as Siegel begins to incorporate some of the bountiful fresh produce that's coming in.
Being in the heart of the Financial District, Siegel said he has learned that "speed is the name of the game," knowing that many guests are just stopping in to grab a quick bite or something to go. But even with that idea, he doesn't want to sacrifice quality and feels it's important to provide a competitive price point. One thing he does want to get across is that despite what some may think, Shorty Goldstein's is not a New York deli and that is not what they are trying for.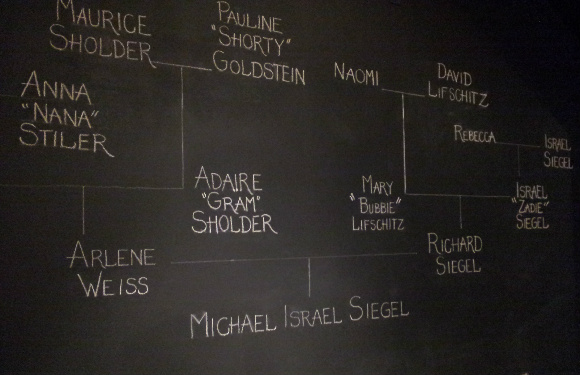 Perhaps the most endearing feature of the deli is the interior design, especially the black side walls. It's Siegel's ode to where he came from. "I wanted people to see where I came from, hence the family tree. Each part of the tree is a different part of me, each name represents a person in my family who has helped be become who I am and define what this restaurant is about," Siegel said. "Right now, I only have pictures from my mom's side of the family up, but we're going to continue to add to the walls." So while many diners ask where a certain menu item came from, Siegel is explaining where each and every part of Shorty Goldstein's came from.
Shorty Goldstein's is located at 126 Sutter Street (near Montgomery). The restaurant is open for breakfast and lunch, Monday-Friday from 8:00am – 4:00pm.
Main Photo Credit: Shorty Goldstein's, via Facebook