Chef Michael Rotondo Brings Impressive Pedigree to Parallel 37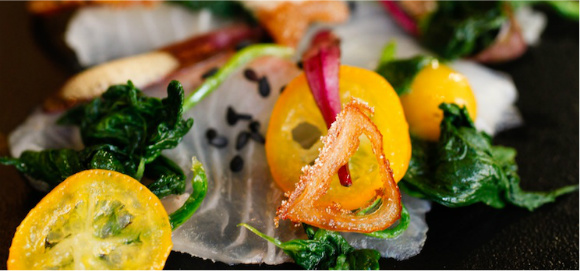 Growing up in Massachusetts and with a culinary background that has taken him around the world, Michael Rotondo was approached with an opportunity he couldn't pass up – to head the kitchen as Executive Chef of Parallel 37 in the Ritz Carlton, San Francisco.
The 33-year-old took the helm in January, following several years working alongside world-renowned Chef Charlie Trotter at his eponymous Chicago restaurant. "Working with Charlie was such an amazing experience. There is so much I really took out of my time with him," Rotondo said. "I think one of the main ideas that he really focused on and I have taken to this kitchen is to teach the staff about the importance of the total package. It's not just about the food – the service and ambience has to match what's plated on each dish."
That's evident in the attention to detail, not only from the kitchen, but the front of house staff and servers, who are all well-versed in the eclectic menu.  It's also part of the reason that in his first few months at Parallel 37, Rotondo has made it a point to have a visible presence in the dining room, talking with guests, discussing items on his tasting menu and making Parallel 37 a warm and friendly environment. "I want guests to come in and say, we would like you to cook for us, allowing them to enjoy the dining experience and leaving it in our hands."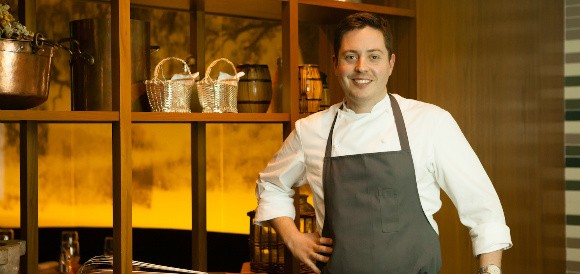 Even with his background in fine dining, the menu at Parallel 37 is meant to be fun and not overly complicated, with items split into vegetables, seafood and meats. "We're fortunate in California to have such amazing produce. I want the menu to be thought provoking, where our guests are really seeing how we use the ingredients together, providing different textures, but always complimenting the main ingredient. But we also have to be adaptable to the needs of our guests, whether it's food allergies or working around ingredients that our guests might not like."
Rotondo said he is excited to work with many of the ingredients that are popping up locally, from fresh peas to asparagus and tomatoes. He takes each and devises different ways to use them in a dish, before implementing complimentary ingredients. While it is hard to categorize the menu at Parallel 37, Rotondo said he is not focusing on one specific style of cooking, using numerous techniques and picking and choosing from flavors of countries throughout the world.
As he gets a bit more acclimated to San Francisco and it's culinary scene, Rotondo is hoping to become more involved in chef events in the city, expanding the beverage program with food pairings at Parallel 37, hosting wine dinners and also cooking demos.  Here's the recipe for one of Chef Rotondo's dishes on his current menu: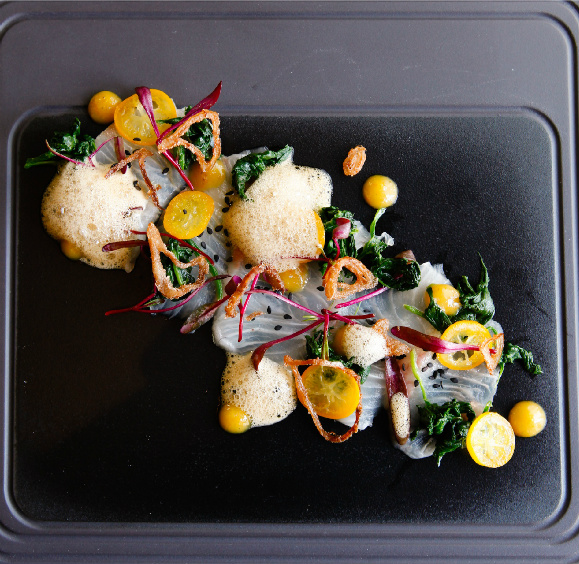 Sashimi of Kampachi with Kumquats, Ponzu and Brown Butter
Serves Four
½ cup orange juice
1 lb. organic kumquats, washed
1 loin of kampachi
1Tbls. white soy
4 Tbls. whole brown butter (method below)
1 cup spinach, blanched
Salt, to taste
Pepper, to taste
1 cup grapeseed oil
1 shallot, sliced thin
1 cup cornstarch
¼ cup ponzu
2 Tbls. black sesame seeds, toasted
Method:
Place orange juice in a small pot and reduce by half, yielding ¼ cup. Reserve 1 tablespoon of reduced orange juice for seasoning the kampachi. Slice the kumquats paper-thin; try to remove all seeds and stems from the fruit. Pour the remaining reduced orange juice over the slices of kumquats. Let the kumquats marinade for two days to develop flavor.
Slice the kampachi into 8 paper-thin slices and reserve. Combine the white soy and one tablespoon reduced orange juice together. Brush the marinade on the fish and season with salt. Let the kampachi marinate for 5 minutes.
Add butter to small saucepot, heat until boil. Remove from heat when butter turns brown and strain through fine sieve.
Place the blanched spinach on a cutting board making sure any excess water is removed. Roughly chop the spinach into bite size pieces. Take the spinach and season with brown butter and salt. Reserve this mixture until plating.
Heat a medium sauce pot of grapeseed oil until bubbles begin to form, or at 350 degrees Fahrenheit. Take the sliced shallots and dredge in cornstarch. Place the shallots into preheated grapeseed oil and fry until golden brown and crispy; season with salt and pepper.
Assembly:
In a sauté pan over medium heat, warm spinach slightly and scatter onto the center of the plate. Place the thinly sliced kampachi over the top of warmed spinach. Spoon the ponzu on the fish and around the plate. Garnish the kampachi with candied kumquats, toasted sesame seeds and crispy shallots.
Parallel 37 is located in the Ritz Carlton, San Francisco at 600 Stockton Street (at California).