Interview: White Arrows Hits the Road for Coachella, Noise Pop
With just one album out, Dry Land Is Not A Myth, 2013 is shaping up to be a big year for White Arrows and singer Mickey Church. The band is on the bill for Coachella 2013, but will first make a stop in San Francisco for the Noise Pop Festival.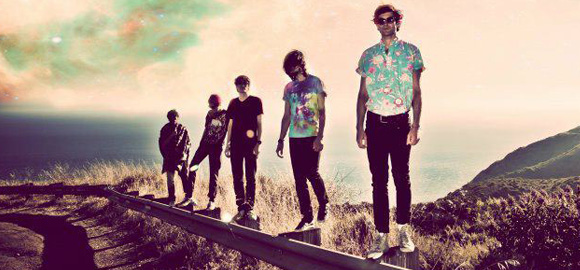 White Arrows performs February 28 at Great American Music Hall with !!!. We caught up Church in the midst of shooting a video to talk about his dedication to Coachella, his eccentric professor at NYU, where he studied shamanistic ritual, and boxing.
Are you ready for the interview?
Yeah, I was just shooting a short film with my buddy and my roommate.
What's it about?
My roommate wrote this short film about life on the West Coast at our age, and how you grow to appreciate Los Angeles as a city. There are a lot of stigmas that revolve around LA and it's kind of hard to break them, but eventually the city becomes something you fall in love with.
I've heard it's kind of hard to meet people there.
It's a really hard place to meet people because everyone's in their cars most the time, so unless you have an established group of friends it is hard. Metropolitan cities, like San Francisco, where you rely on public transportation makes it a lot easier. In LA you're going from point A to point B, and you're sort of sectioned off from the world.
Speaking of Southern California, congrats on making it into the Coachella lineup. Who are you most excited to see?
I'm just excited in general for the festival. I've been every year except for the very first one. I used to hitch rides to go when I was 14, so I've seen the whole progression. Being a part of it is mind blowing and it's a big deal for all my friends and family. A lot of great bands are playing the same day as us on Sunday. I've been into a lot of electronic music lately, like Baauer and Disclosure, so I'm excited to see them, and Blur will be cool.
I remember back in the day when Rage Against the Machine, Beastie Boys and Tool used to headline. It seems like it's more about the smaller bands now?
I agree. When the festival first begun they used to need those big bands, now it's to the point where the festival is bigger than the bands they can get. It's become a cultural phenomenon. I used to lie and tell them I was playing to get in. It's funny I used to pretend and now I'm actually playing.
Sounds like you're a Coachella veteran, and you live in LA, so you're probably prepared for the heat…
I've been every year and I'm still not prepared for the heat. I get back and I feel dehydrated and have to recover from all the terrible things I do to my body.
The image of eyes seems to appear a lot in your videos and on the album cover for Dry Land Does Exist. Does this have a correlation to your past?
I thought you were going to bring up that we were somehow related to the illuminati.
I won't blow your cover…
It wasn't really intentional and I didn't design the cover, but I picked the artist Leif Podhajsky, from Australia. He's done artwork for Lykke Li and other bands. It wasn't a conscious decision to connect it to my past. I thought it was generally interesting as a window to the soul.
You studied at NYU with a degree in Shamanistic Rituals. Do you consider yourself a Shaman?
No, not even close. Even the first person who taught me at NYU doesn't consider himself a Shaman, and he's been practicing for 20-something years. He considers someone of Native American decent who's indebted to that practice to be one. I was just assigned with that teacher when I started and he encouraged me to take that class.
It was my first time away from home, and New York, as a city, was very daunting, especially going to NYU. I was with a bunch of kids from all over, big cities and small towns, waiting for class to start. The professor was like 20 minutes late and we were all on edge because none of us knew what shamanistic rituals were. He showed up with a doctor's mask and a light on his head and he was covered in dust.
He starts shouting: "true story, true story, I just got back from Burning Man. Janis Joplin was in eagle form flying over the desert." It was a trip. I think a lot of people dropped that class afterward. I came from an extremely religious school so the fact that they would offer that class was mind blowing.
How has this degree affected your music? Do you do any rituals on stage?
I don't know that it has. I studied that among other things. I've taken science classes, studied biology and neurosciences. Just exploring in school helped with creating art and thinking a little more outside the box, and especially living in New York, which is like an epicenter for art.
Do you ever miss living in New York?
Yeah, I'm going back on Friday to see a boxing fight in Atlantic City. Adrien Broner is fighting at Ceasars Palace. I've only been to amateur fighting at a church in New York. It was full pandemonium, people in lime green suits and fedoras that looked like pimps. This one is legit boxing.
Are you a boxing fan?
Yeah, I like the tradition around it. It's deep seeded in history with the immigration into the U.S. The Italians and Irish would fight with the inception of migrating to New York. And everyone dresses up and it's this whole regal affair. I boxed a little myself, but I always enjoy watching it.
You toured with some pretty big names with just a 7-inch recording. How'd you come up on those opportunities?
I don't know, its one of those things where dominos just fell. The first one was a West Coast tour with Cults, and that got our name out there. We just kept getting propositions we couldn't turn down. It took a lot of time to record our first full length because we were always on the road.
Your sound reminds me of a mixture between Animal Collective, Interpol, and Chromeo. Do you think this kind of electro indie pop will define this era in music?
Who knows? You never know when you're in something. I think whatever movement was happening such as punk, or grunge, they didn't know they were in it. There are a lot of bands becoming successful in this indie movement, but I'm still living in it. I still can't see the forrest through the trees.
What can you tell me about your music being on Jersey Shore?
We signed something for all the networks owned on MTV, and they can use it on whatever networks they choose. We've been on MTV Movie awards and other shows, but it seems like an inside joke at this point. They've used our music on like every show. Maybe it's in my head, but I picture the audio guy playing our music and laughing, seeing how many shows he can sneak our music in.
Have you guys played in San Francisco before?
Many times. San Francisco is like our home away from home. We played Oakland for our first time in at the Fox Theater with Santigold. We've played Brick and Mortar, the Independent a couple of times, and we're playing Great American Music Hall for the first time.
If you could play anywhere in the world, where would you play?
I'd love to play in Egypt in front of a pyramid. The Henry Fonda Theater is cool, too.  We've been fortunate to play there. The Wiltern or the Greek Theater, any outdoor amphitheater, would obviously be great. But I like the more bizarre places, like the Catacombs in Rome, or in front of Pyramids.