First Look: Ramen Shop in Oakland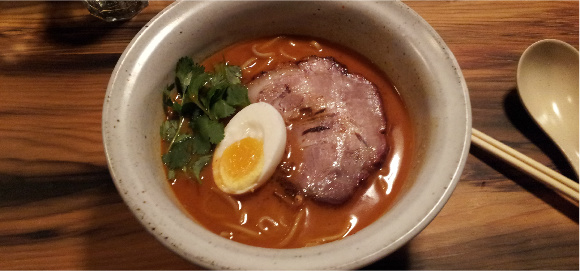 So far this year, January has been the month of openings, both in San Francisco and across the Bay. And one of the hottest spots has been The Ramen Shop in the Rockridge neighborhood of Oakland.
Open now for about a week, the creation of three friends, Sam White, Jerry Jaksich and Rayneil De Guzman, has been packed each night, in fact, selling out on opening weekend. The menu so far features three starters and three ramen choices; expect more add-ons as the weeks go by. They also have ice cream sandwiches for dessert and a large beer and wine list along with three cocktails rounding out the menu.
The noodles are made in-house and are definitely thicker and chewier than most ramen places. While the menu has been changing on the fly, I was able to try both the Spicy Miso Ramen and Shoyu Tonaktsu Ramen. The Spicy Miso has a really nice kick to it; talking to the team, they said the hard part was making the broth spicy enough, but not too spicy to overpower everything else. It was topped off with spit-roasted Llano Seco chasu, a salt-cured egg and cilantro. The Shoyu Tonkatsu had perhaps the creamiest and richest ramen broth I have ever had. There is also a vegetarian option on the menu. While the bowls seem a bit more pricey ($13-16 each), with the freshness of ingredients and intensity of the broth, it is well worth it.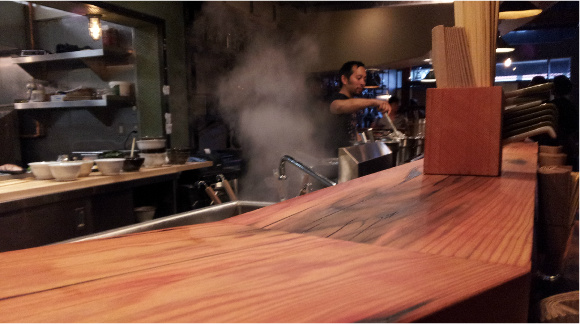 Starters included a salad, kimchee and fried rice and they had two available ice cream sandwiches, black sesame and malted milk.
While the space may seem small from the outside, it is actually very long with plenty of tables and a large area in front of the kitchen. The general feel is exactly what one would expect from a ramen shop – comfort and hominess. There is a real sense of Japan with touches of California mixed in.
The restaurant does not take reservations and is open from 4:00 p.m. – Midnight each night (closed on Tuesdays). Quick tip: head there early to beat the dinner time crowds. It is definitely a bit more relaxed for the first hour or so. Excited to see what else is on tap. The Ramen Shop is located at 5812 College Avenue in Oakland.