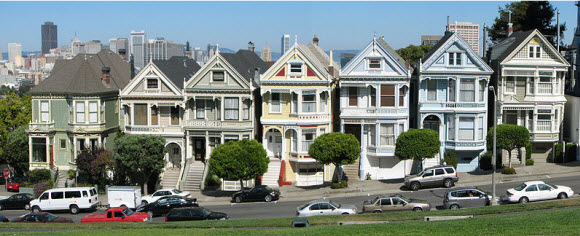 The NoPa 'hood, formally North of the Panhandle, is one of most up-and-coming neighborhoods of San Francisco, with "coming soon" signs becoming quite prevalent up and down Divisadero. Whether you're new to the area or are still deciding if NoPa is a real neighborhood, there's a lot to discover.
NoPa was the first place I lived in the city and after very recently migrating to another part of SF, I want to share some of my favorite eateries in the area. There are, of course, many more restaurants worth checking out, but here's what I've fallen in love with:
Bean Bag Café: This is one of the easiest places for any meal because of the extensive menu. My go-to at breakfast is always the breakfast burrito with added chicken apple sausage. Loaded with beans, potatoes, eggs, cheese, salsa and sausage, the burrito is beyond filling. There's also a huge selection of freshly-made smoothies and crepes, which are perfect for breakfast, lunch or dinner. Bean Bag offers a super-cheap beer happy hour and has a prime corner location with outdoor seating, making it superb for warm early fall evenings.
Nopa: What came first, the restaurant or the neighborhood? Don't think too much about that—just come here for the infamous burger or decadent brunch. A pricier option along the Divisadero corridor, Nopa is definitely a place to plan for; come in without a reservation, and the wait could be near an hour any time of day. I love brunch here, particularly the custard French toast and any egg dish. Their cocktail selection is noteworthy as well, and the restaurant is open until 1 a.m. daily.
Eddie's Cafe: Perhaps the cheapest and most satisfying breakfast anywhere, Eddie's is a no-frills diner serving simple dishes that hit the spot. The prices are unbelievably cheap, and their unlimited coffee refills are a huge win. Plus, it's served in all sorts of kooky mugs that's both kitschy and fun. Definitely not a place for a breakfast date, but great for those days where you just want eggs and hashbrowns.
Fly Bar: Here's a perfect happy hour: a half-priced personal pizza (plenty for lunch the next day) and a $3 glass of sangria. Or two. This bar fills up at night, but is relatively low key at happy hour, which runs on weekends as well.
Mojo Bicycle Café: Part bike shop, part café, this place is the epitome of NoPa-ness. They serve Ritual and De La Paz Coffee, and a mean selection of sandwiches. The café also has a parklet out front decorated in twinkly lights, and is located across the street from The Independent, which makes it a perfect place for pre-show drink.
Matching Half Café: Lovingly referred to as the Half Caf', this is probably where I've bought the most cups of [Sightglass] coffee in San Francisco. The staff is fantastic, and they have occasional acoustic performances and trivia nights. Check out some breakfast items too, particularly the breakfast sandwich or homemade poptarts from Black Jet Bakery.