Food and Charity Join Forces This Week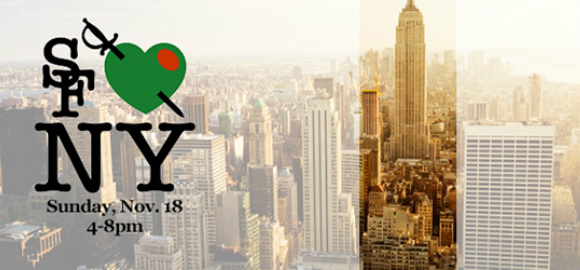 There are plenty of opportunities this week for food and cocktail lovers to enjoy nights out – and also to contribute to a charitable cause.
Tuesday, November 13 (6:00-7:30 p.m.) – Bottle Cap in North Beach will be hosting some of the neighborhood's top mixologists for the second annual Herb Caen Martini Competition. Guests ($5 donation in advance, $10 at door) will be able to judge the Herb Caen-inspired martinis made with 3 Olives Vodka. Bottle Cap, Txoko, 15 Romolo and Campanula will all be represented. Proceeds from the event will benefit Project Open Hand. Bottle Cap is located at 1707 Powell Street in San Francisco.
Wednesday, November 14 (Multiple locations) – Dining out will mean more than just getting a good meal in the Mission District on Wednesday as 20 restaurants are participating in Food For Thought to benefit Mission Graduates, a nonprofit organization that aims to increase the number of K-12 students in the Mission District who are prepared for and complete a college education. Participating restaurants include Commonwealth, Foreign Cinema and Maverick among others. A complete list is here.
Saturday, November 17 (12:00 p.m.) – Elixir will be celebrating an anniversary on Saturday with what the Mission bar is calling a "Rum-Soaked, Jamaican Jerk" party. Chef Ryan Farr and the 4505 Meats crew will be on hand along with Appleton Estates Rum to present plenty of food and drinks, including a rum-soaked, Jamaican-jerked pig roast. Tickets are $45, $65 for VIP. Part of the proceeds will benefit Share Our Strength. Elixir is located at 3200 16th Street, party goes till the rum runs out!
Saturday and Sunday, November 17, 18 (Various locations) – San Francisco bars are joining together this weekend to support relief efforts for those on the East Coast affected by Hurricane Sandy. On Saturday, several bars around town will be offering drink specials. Sunday, many bartenders and mixologists will gather at Local Edition for a larger fundraiser ($25 for tickets, cocktails $5). The Bay Area chapter of the United States Bartenders' Guild is looking to help support the USBG's efforts to clean up bars damaged by the storm. Local Edition is located at 691 Market Street.
Sunday, November 18 (5:00-9:00 p.m.) – Dobbs Ferry Restaurant in Hayes Valley is partnering with The Stephen Siller Tunnel to Towers Foundation to host a special Hurricane Sandy Relief Benefit on Sunday. All proceeds will go to those in need of help who have been impacted by Hurricane Sandy. Organized by Dobbs Ferry owner Scott Broccoli, the storm and relief efforts hold a special place for him as he's a native of Dobbs Ferry, New York and he and the rest of the team behind the restaurant were deeply affected by Sandy. Tickets are $100 and include an open bar and food. The restaurant is also taking donations for those who can't attend. Dobbs Ferry is located at 409 Gough Street in San Francisco.