Giants Victory Parade Set For Halloween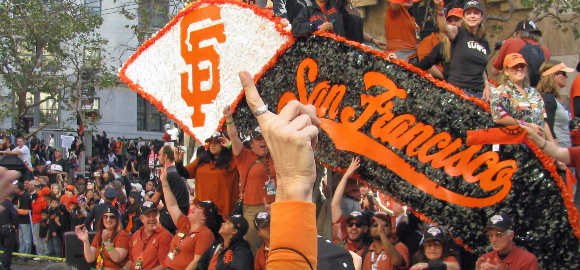 A remarkable season and remarkable playoff run for the San Francisco Giants will be celebrated on Wednesday with a victory parade up Market Street to City Hall.
The team arrived back to AT&T Park on Monday afternoon with World Series trophy in hand, met by a large group of jubilant fans, celebrating the franchise's second World Series title in three years.
Unlike in 2010 when the parade route took some turns in the Financial District, this year's festivities will start on Market Street near the Ferry Building and make its way directly up to City Hall. The parade begins at 11:00 a.m.  Some side streets in the area are also expected to be closed to traffic.
If 2010 was any indication, thousands of people are expected to line the streets of San Francisco to celebrate the team's four-game sweep of the Detroit Tigers. That day back in 2010, BART set an all-time record with more than 522,000 passengers. The transit agency is already planning to use every possible train to accommodate the expected huge crowds on Wednesday. Caltrain will also be running extra trains in the morning and will attempt to lessen the load during the afternoon commute by running trains when they are full, likely every 15 minutes, with stops at all regular weekday stations. The Golden Gate Bridge District is also expected to bring in additional buses and boats.
San Francisco officials said they do not expect the same type of violence and vandalism that occurred across the city on Sunday night and into early Monday morning, as more than 30 people were arrested, numerous bonfires were set in the Mission District and a Muni bus was torched.
Photo Credit: Betty Maffei, nmaffei.blogspot.com