No Soup For You, Get Italian FroYo Instead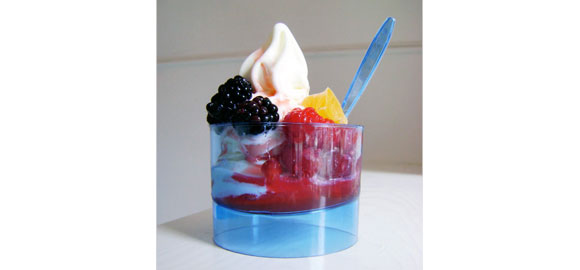 Last month, Italian froyo chain Yogorino took over the space of the only west coast location of The Original Soupman, at 79 Jefferson Street.
The NY-based soup chain was best known for the rude demeanor of owner Al Yeganeh, which was made famous by the Seinfeld TV show character, the soup nazi. The soup shop opened a year ago at Fisherman's Wharf, but was not able to attract enough regular business. Food critics claim that the closure was inevitable. For starters, the $8 to $11 prices for a bowl of soup were too high, compared to the local average of about $6 from most vendors, like local soup chain San Francisco Soup Company.
Its replacement is welcome news for customers seeking relief during hot summer days. Many other froyo chains have debuted in the city recently this year. This is the 3rd San Francisco branch for Yogorino. Franchise owner Joanne Wills operates 2 other locations, in the Marina at 2214 Chestnut Street, and downtown at Embarcardero Center 4. Yogorino has over 200 stores in Italy and locations in more than 35 countries. The only other U.S. franchise is located in Philadelphia's Rittenhouse Square.
Unlike other froyo chains, Yogorino only has one flavor. And, it is less tart than the typical frozen yogurt. So people who dislike regular tart froyo, often find that this version is more palatable to them. Most customers say that the flavor is comparable to Greek yogurt.
Yogorino's creamy froyo is served in fancy looking blue plastic cups, which are biodegradable. A mini is $3.50, small for $4.50, medium is $5.50, and large is $6.50. The price includes one topping, additional toppings cost 75 cents each. Choose from 6 warm sauces, 6 fresh fruits, and 12 assorted dry toppings like sprinkles, chocolate pearls, cookies, etc. Also available are chocolate dipped gelato pops for $5.
Yogorino Fisherman's Wharf is open daily from noon to 9 pm.
Photo Credit: Yogorino Facebook
Clips from the Seinfeld TV show, season 7, episode 6.
The end of the soup nazi.
http://www.youtube.com/watch?v=CLPs2rgmkqE