Q&A: Poolside's Summertime Party Vibe
California duo Poolside, Jeffrey Paradise and Filip Nikolic, is making waves with summertime feel-good music and their new album Pacific Standard Time.
We spoke with them about their do-it-yourself attitude, balancing several roles within music and the commute back and forth from Los Angeles to San Francisco.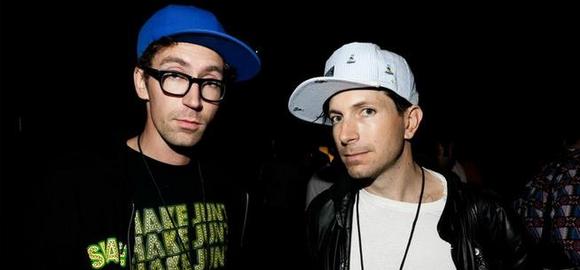 Jeffrey Paradise and Filip Nikolic both wear several hats throughout the music industry – from Jeffrey's Blow Up parties in SF and work with The Rapture to Filip's production of bands like Bonde do Role and as the bassist for Junior Senior. After taking on a new project as Poolside the creative momentum exploded and on the verge of it's release, Pacific Standard Time is about to bring their signature disco sound to summer BBQs and pool parties worldwide.
Poolside "Slow Down"
You have both done so much in your music careers, when did you decide to take on a new role as Poolside and eventually release a full album?
Jeffrey Paradise: The beginning of 2011 was when we started Poolside officially. I think shortly after we released our first single we decided we wanted to do a full album because a lot of our friends in the music industry and other DJs [liked it.]
Sometimes it takes a really long time to release full albums so we focused pretty hard on not gigging too much and finishing a full length before we got too caught up traveling and DJing.
Your album is sixteen tracks and you've posted several others to your Soundcloud, how do you stay motivated and inspired to create such a large amount of content?
Filip: I think it's all about doing it when it's the right moment instead of trying to struggle out songs. When you feel like making a song, then you do one.
We basically just hang out all the time and that's how it starts. We don't like spending too much time on a song either, we do it really fast. Not a lot of nit picking, one or two days [till it's done.]
With all the projects going on in your lives do you ever think you'll put all your focus onto Poolside or just one role?
Filip: I've been trying to do that for the last 10 years and it's not easy, it's not working out for me. I wish I could.
If I just did Poolside I would get really tired of the kind of music I'm making and want to make something different. I don't want to get bored.
Jeffrey Paradise: I think it's good to have various projects so when we come back to Poolside we're more engaged in the process. That may not be for everybody but it's good for us.
When Poolside completely blows up will other things fall to the side?
Filip: We take it day by day I guess. I don't think we mind touring and getting all serious with it, I think that's cool too. As long as it's fun.
We're really scared of involving people who make it more of a business thing to do. That's one of the reasons we chose to self-release the album. If we had a label they would put a lot of pressure on us and what we are expected to do. We want to be able to keep our freedom that way, that's the main motivation. Keep it as close as possible to how it was on day one.
What was your favorite part of the whole process of recording the album and now releasing it?
Filip: The whole process has been really crazy because we started without really any ambitions of what it would turn into and every time we do something the result shocks us. Now we're scared because we're getting used to all these crazy things happening. It has to stop at some point; it can't just go uphill like that.
Jeffrey Paradise: It's a little nerve racking all of a sudden. That's the most crazy thing about it. We just wanted to have fun and now these other things are involved.
What's your choice transportation between SF and LA?
Jeffrey Paradise: It changes but I travel a lot on Virgin because I really like Terminal 2 but get sick of it because you have to go through security and stuff. It actually takes five and a half hours door to door. I recommend Terminal 2, it's really nice and has great food.
Filip: Jeff, have you ever taken the train? [Our friend] is obsessed with the train to San Francisco, says it's the best thing ever. It's expensive but it's fucking awesome and faster than flying. You just go to the station and jump on, no security. There's a restaurant and a movie room.
Jeffrey Paradise: I drove the last two times and that's been getting better because you can go really fast but there's some construction and it gets boring. I think I'm back to flying unless the train proves to be the new shit. I'm waiting for the lightspeed rail but I think it's like 10 years out.
Filip: I took Greyhound once. I had to DJ one of Jeff's parties and I came 10 minutes before the club closed because my Greyhound was 8 hours late. Not reliable at all if you want to be on time.