Weekend Brunch at La Mar Cebichería Peruana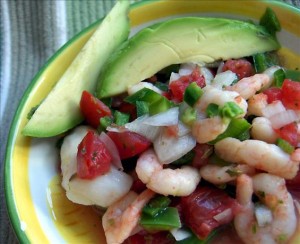 La Mar Cebichería Peruana (Pier 1.5 The Embarcadero) is expanding their weekend brunch menu, beginning at 11:30AM on Saturdays and Sundays. The new additions will take advantage of locally sourced ingredients as well as the restaurant's incredible bayside patio.
Menu highlights include Tacu Tacu a lo Pobre–crusted Mahi Mahi with fried egg, salsa criolla and chancaca sauce, Yuccas Estrelladas–crispy yucca fries with grilled Italian Sausage and runny scrambled eggs, and Salmon Salad served with organic spinach and arugula.
The patio seating features a publicly accessible boat dock at which vessels up to 40 feet in length can tie up for three hours at no charge. At long last accommodating the often
overlooked 1%.
But even if you're yachtless, La Mar will entice you with their intoxicating list of Bloody Mary specials. My personal favorite, the Bloody Bacon, features bacon infused pisco and lime juice and is garnished with a bacon strip. It's unlike any other Bloody you've ever tasted. As are many of the mainstay menu items, making the restaurant one of the premiere dining destinations in the city.
Chef Oka is a native Peruvian with a worldly background spanning multiple continents. He was part of the culinary team that opened the original La Mar in Lima, Peru before bringing the popular eatery to Mexico City and Bogotá, Columbia. As a big fan of small bites and tasty pisco drinks, I am psyched that we are able to have our own taste of Peru here in San Francisco.
They of course encourage family-style sharing so it's a great place to come with large groups of carnivores and vegetarians alike. Their diverse menu appeals to all. I can't wait to get my hands on a Bloody Bacon this weekend…or two or four.