Recipes to Celebrate National Fresh Fruit and Veggies Month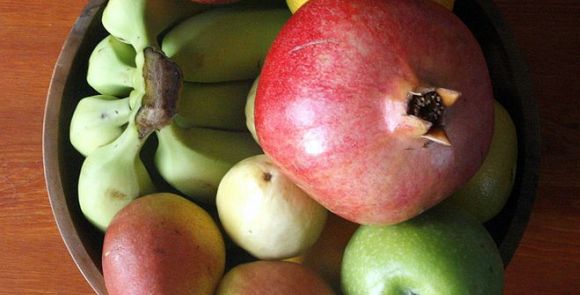 One of the best things about summer is the abundance of fresh fruit and vegetables, so it makes perfect sense that June is National Fresh Fruit and Vegetables Month.
While eating kiwi, carrots and kumquats fresh from the farmers' market is one way to mark the occasion, here are some recipes that won't mask the fresh tastes and will truly celebrate the freshness of the month's produce.
Honey Drizzled Berry Tart
(From Delish.com)
Ingredients
10  graham crackers
1/4 C walnuts
1/4 C packed dark brown sugar
5 T butter or margarine, melted
8oz cream cheese, softened
4oz  goat cheese, softened
1 T fresh lemon juice
1 C heavy or whipping cream
1/4 C granulated sugar
1 pint raspberries
1/2 pint blackberries
1/3 C honey
Preparation
Preheat oven to 375 degrees F. Lightly grease 11-inch tart pan with removable bottom.
In food processor with knife blade attached, pulse graham crackers, walnuts, and brown sugar until finely ground. Drizzle in butter; pulse until mixture begins to form small clumps.
Transfer to tart pan and firmly press mixture onto bottom and up side of pan. Bake 10 minutes or until golden brown. Cool completely on wire rack.
In large bowl, with mixer on medium-high speed, beat cream cheese, goat cheese, and lemon juice 2 minutes or until smooth and creamy. Add cream; beat on low speed 2 minutes or until mixture stiffens, occasionally scraping bowl with rubber spatula. Add granulated sugar; beat on low speed 2 minutes or until incorporated and mixture is silky. Pour into crust; cover and refrigerate at least 4 hours and up to overnight.
When ready to serve, remove side of pan and place tart on platter. Combine berries in large bowl. In small saucepan, heat honey just until bubbles form. Pour over berries. Gently stir to evenly coat berries. Arrange berries over tart in decorative pattern; serve with any remaining berries.
Salsa Fresca
(From MarthaStewart.com)
Ingredients
2 medium tomatoes, roughly chopped
1 small white onion, diced small
1 jalapeno, minced
1 garlic clove, minced
1/2 C loosely packed fresh cilantro leaves, roughly chopped
1 T fresh lime juice
Coarse salt and ground pepper
Preparation
In a medium bowl, stir together tomatoes, white onion, jalapeno, garlic, and fresh lime juice. Season with coarse salt and ground pepper and stir to combine. Let sit at least 15 minutes (or, covered, up to 4 hours). Stir in cilantro leaves just before serving.
Marinated Fresh Vegetable Salad
(From TasteOfHome.com)
Ingredients
For the salad
2 C celery, sliced
2 C cauliflower, thinly sliced
2 C cherry tomatoes, halved
2 C carrots, thinly sliced
2 C cucumber, sliced
1 medium onion, thinly sliced and separated into rings
For the dressing
3/4 C olive oil
1/2 C minced fresh parsley
3 T white wine vinegar
1 garlic clove, minced
1 t salt
1 t ground mustard
1/8 t pepper
Preparation
In a large serving bowl, combine the vegetables. In a small bowl, whisk the dressing ingredients. Pour over vegetables; gently toss to coat. Cover and refrigerate for at least 2 hours or overnight. Serve with a slotted spoon.
Roasted Summer Vegetables
(From Kayotic Kitchen)
Ingredients
For the vegetables
5 or 6 tomatoes
1 large onion
1 red bell pepper
1 zucchini
1 fennel bulb
coarse sea salt
black pepper
2 T oil
For the basil dressing
15 fresh basil leaves
3 T pine nuts
2 garlic cloves, coarsely chopped
5 T oil
Preparation
Preheat oven to 400 degrees F.
Cut up vegetables into slices and wedges as desired.
Put all vegetables into large roasting tray or oven dish. Add 2 T oil and toss to evenly coat. Sprinkle generously with sea salt and black pepper.
Place dish in oven for 35 to 45 minutes, or until vegetables are tender and slightly browned.
Meanwhile, prepare dressing. Toast 3 T pine nuts in dry skillet until slightly brown.
Transfer pine nuts to immersion blender or food processor. Add fresh basil and coarsely chopped garlic, salt, pepper and 5 T oil. Pulse until well blended.
When vegetables are finished, top with dressing.
Summer Fruit Sangria
(From MarthaStewart.com)
Ingredients
6 C assorted fruit (such as mango, pineapple, cantaloupe, and apricot), sliced or cut into chunks
1/4 C thinly sliced peeled fresh ginger
1 to 1 1/2 C fresh basil or mint leaves
1/2 C Cointreau
1 bottle Sauvignon Blanc or Pinot Grigio
3 T fresh lemon juice
Ice
Preparation
In a large bowl or pitcher, combine fruit, ginger, basil or mint, and orange liqueur. Mash gently with the back of a wooden spoon until basil is bruised and fruit releases juices. Add wine and lemon juice and stir to combine. Refrigerate 1 hour (or up to 1 day). To serve, fill eight glasses with ice and top with sangria.
Berry Mint Salad
(From Ribbits and Tiaras)
Ingredients
1 quart  strawberries, washed, hulled and sliced in to quarters
1/2 pint blackberries left whole
1/2 C fresh mint leaves
1 t lime juice
1 t lemon juice
Preparation
Pat berries dry.
Combine lemon and lime juice in a bowl, add fruit and mint and toss gently to coat.
Sprinkle with sugar if desired.
Cover and chill for 20 minutes.
Image courtesy of Wiki Commons