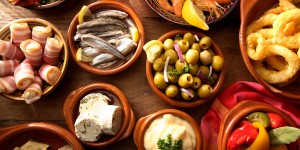 Circolo (500 Florida Street) is hosting a fun event this Thursday night featuring cooking classes followed by Argentine Tango dance lessons. The appropriately named Tango & Tapas begins at 6:30PM on June 7th with a demonstration on making your own bite-sized appetizers.
But it's not all just about learning; there will be some eating and drinking as well. Grilled skirt steak, wild arugula salad, corn fritters with roasted red pepper sauce and some roasted pumpkin seeds with Argentine Parmesan rounds out the ethnically robust menu. Wash it all down with some Argentinean Red Sangria, hopefully enough to lower your inhibitions for the dance floor!
Tickets are all-inclusive for $65, but since you're a fan of SF Station, you'll get hooked up with $10 off the purchase price by entering the promotional code, "niko". You can secure one of the limited spots still available by clicking here.