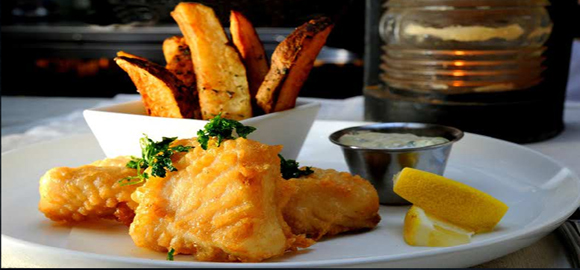 Today is National Fish & Chips Day. This means it's time for you to indulge in some fried, vinegary goodness. While some may argue that the Bay Area lacks any truly great fish 'n chips, we would like to present our picks for some of the best places you can get this dish.
Most of these places put their own, uniquely Californian twists on this traditionally British treat, but they are all just as tasty:
1. Anchor & Hope, Smithwick's battered cod, tartar sauce and rosemary and thyme fries.
2. Hog & Rocks: Beer-battered cod with Kennebec potatoes, malt vinegar and tartar sauce.
3. Michael Mina: Alaskan halibut with chickpea fries, hijiki and lotus salad, house made malt vinegar and gribiche aioli.
4. Woodhouse Fish Company: Anchor Steam Beer-Battered wild Alaskan cod with shoestring fries.
5. The Irish Bank Bar & Restaurant: Alaskan cod served with coleslaw and french fries.
What's your favorite fish & chips joint?
Image courtesy of Anchor & Hope