Central Market Neighborhood Finds Creative Uses for Vacant Newsstands
Hurrying down Market Street, anyone could easily miss one of the solitary green metal monsters that look as if they sprouted out of the concrete, and were once a requisite stop for the morning commuter.
When artists Carissa Potter and Luca Nino Antonucci learned from the SF Arts Commission about the Vacant Kiosk Reuse Program to reopen these shuttered newsstands, they saw an opportunity to open a public space for local artists to display their work.
"We wanted to have a location, and it was conceptually interesting to have an actual newsstand and we both like tactile objects and we thought a newsstand would be fitting both as a starting place and an actual workspace," said Antonucci in an interview.
To reopen the newsstand at Sixth and Market Street, which they have christened Edicola, the artists worked with Executive Director Daniel Hurtado of the Central Market Community Benefit District (CMCBD) and volunteers from architecture firm HOK.
The CMCBD, a nonprofit community based organization financed by Central Market neighborhood property owners, is part of a coalition that includes Mayor Ed Lee and the Office of Economic and Workforce Development, community partners and residents working together to reinvigorate the Central Market neighborhood.
Potter and Antonucci are print-based artists and recent graduates of the San Francisco Art Institute with a MFA. They met in school and have collaborated on a number of projects since.
As part of their artist-in-residence agreement, Potter and Antonucci do not pay rent to operate Edicola, but must pay insurance costs. They only accept donations for the limited edition prints, art books, records, tapes and zines created by them and other emerging artists.
Hurtado said all vacant newsstands are owned by multinational outdoor advertising corporation JCDecaux, who signed a lease agreement with CMCBD and the city for free use of the space. CMCBD is able to sign sublease agreements with tenants after obtaining operating permits from the Department of Public Works.
"JCDecaux liked the idea because they [the newsstands] are not being used; if they are being managed by another entity and occupied in a positive way that means they are less likely to be vandalized," said Hurtado.
The first stand Hurtado and global architecture firm HOK worked on was a bike repair kiosk on Seventh and Market Street that provides free bike repairs to morning commuters.
Proposed in the fall of 2010 in a streetscape improvement exercise intended to identify actionable, scalable and sustainable actions that could be taken to improve Central Market, the Huckleberry Bicycles stand has thrived since opening.
"They've gotten a lot of synergy between operating their free repair kiosk [and getting business at their shop]—it has allowed them to integrate into the biking community fairly rapidly," said Justin Kelly of HOK.
Amid the whir of passing cars in the Central Market Street neighborhood, only two of the six newsstands are currently in operation, but Hurtado hopes to reopen the remaining green relics located between Fifth and 10th Street.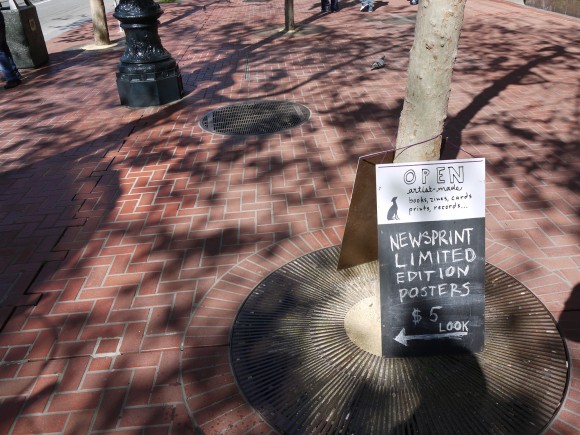 "We have these structures in the public space that were once used as newsstands and with the newspaper industry in decline…wouldn't be great to use them in a possible way that provides a service to the community?" said Hurtado.
Other arts organizations have expressed interest in vending from the remaining vacant newsstands in the Central Market area, but a lack of statutes governing these unique entities precludes any micro-retail, said Kelly.
With the announcement of the publicly vetted Central Market Economic Strategy in 2011 that identifies programs and policies expected to revitalize the Central Market neighborhood, the "idea is to try and instill neighborhood pride and identity and make the neighborhood feel safer and attract more pedestrian activity and more foot traffic means more eyes and ears," said Hurtado.
Both CMCBD and HOK see the pilot program as a small but positive step forward in reducing
the notorious reputation of the Sixth and Market Street city block.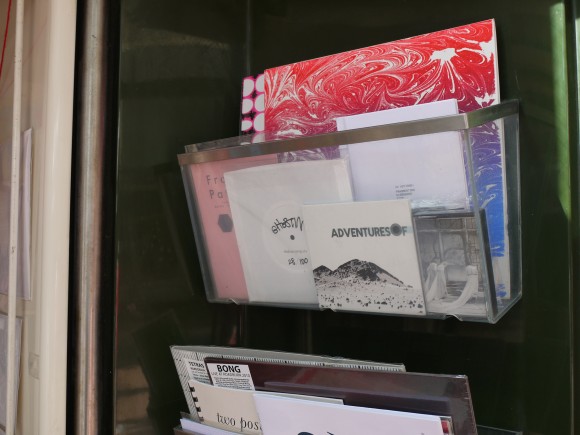 "Everyone in the neighborhood has been very welcoming and delightful and willing to help us out," said Potter as two curious young women stop to browse.
As grey skies threaten, Potter stoops underneath the circular awning of the newsstand for shelter. Snug inside, she grasps the Gazzetta—a monthly art news publication printed in red typeface—and looking out at the bustling neighborhood, expresses hope for a parallel renewal of interest in handmade prints and stationery art, which she and Antonucci love to create.
Find Edicola at 987½ Market Street, at 6th Street or visit colpapress.wordpress.com