Chef Eric Lee of "Food Network Star"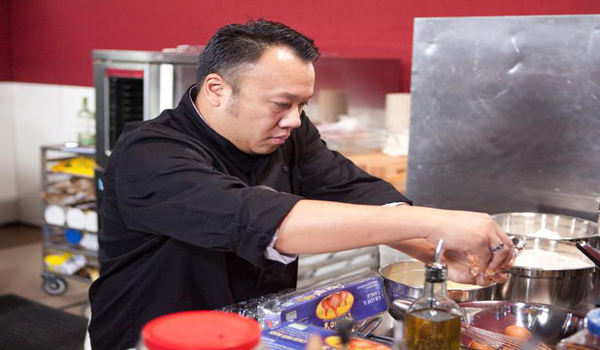 The eighth season of the Food Channel's "Food Network Star" is already underway and Bay Area fans of the show have a big reason to watch. And that reason is Chef Eric Lee.
The reality television series pits 15 chefs – organized in three different teams under the tutelage of Bobby Flay, Giada De Laurentiis and Alton Brown – against one another for a chance to have their very own Food Network Show. Needless to say, the stakes are high.
While all the chefs are at the top of their game, it's always great to cheer on your own hometown hero; it's as if you have a vested interest in their success. Such is definitely the case with Chef Eric Lee who was born and raised and now works in the Bay Area.
SF Station had a chance to talk to Chef Lee about pop tarts, #TeamBobby, and his very favorite restaurants in the Bay Area.
SF Station (SFS): Are you originally from the Bay Area?
Eric Lee (EL): Yes I lived Burlingame near my paternal grandparents until we moved to Foster City when I was 3. I stayed there until it was time to head off to UCLA.
SFS:How do you feel working as a chef in the Bay Area has influenced your cooking? Do you feel it has set you apart from the other contestants?
EL: I do. I'm really used to "winging it." I would decide on my menus only that morning given what amazing things would be at the Farmers Market. As a chef from California, I can easily fly in anything, but it really does taste better when it's local. Plus it really helped me constantly be creative and think on my feet when I'm cooking.
SFS: What's it like working with a New Yorker like Bobby Flay?
Eric Lee (EL):Bobby was awesome. Even better than I could have hoped. I just wish that we could have had more time together. He's really down to Earth and a real guy in spite of all the fame.
SFS: How was your experience on the show?
EL: It was one of the hardest things I've ever done, but now I am having so many doors open for me just because I was on the show. I had never been more exhausted in my entire life which you must try and hide from the vewers. You need to dig down deep and be "up" for every moment on camera. That was tough.
SFS: What is your signature dish?
EL: I LOVE to cook so many different things that this is one of my toughest questions to answer, but if I had to choose, the Mushroom Lasagne in Episode 1 is because it represents so much of me and I use mushrooms in a lot of my dishes to add umami and balance when I'm working with a wine pairing.
SFS: What is your favorite dessert to make?
EL: Hands down, Pop Tarts. They are better than anything you remembered as a kid. I make mine with a brown sugar pecan filling and a mug of hot buttered rum in the winter or in the summer a roasted strawberry one with a fig balsamic milk shake on the side. Total kick ass nod to childhood as a grownup.
SFS: Which are your favorite restaurants in the Bay Area?
EL: I love the bounty of ethnic restaurants strewn all over the bay. For Mexican juanita juanita in Sonoma. For pho, Pho 2000 in the City. For Indian, Vic's Chaat in Berkeley. For sushi, Sakae in Burlingame. For Chinese, Harmony in Mill Valley
SFS: Why did you decide to audition for the show?
EL: After the female contestant from last year couldn't make risotto for Wolfgang Puck. I really wanted to show the viewers what cooking is all about. I had also been on the today show twice last year and that totally lit my fire to be on tv full time.
SFS: Working at a winery, you must know a lot about wine – what's the best wine to pair with a Ding Dong?
EL: Port, definitely port. More so a ruby or a vintage since they are fantastic with chocolate. Tawny ports have a tendency to go better with nuts and caramel.
SFS: And at which winery are you a chef?
EL: I am no longer working for a winery. I did that for almost 11 years. I'm ready to begin the next chapter in my career, whatever that might be. I currently doing cooking classes and working as a private chef and can be contacted through my web site.
*Until the July 22nd finale, viewers can vote for their favorite chefs. And you can do it up to 10 times a day. Show you support for Eric Lee!
Cheer Chef Eric Lee on Food Network Star, Sundays at 9pm/8c.
Image courtesy of the Food Network