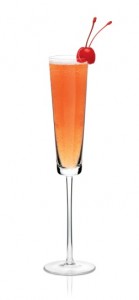 In celebration of Mother's Day, Parc 55 (55 Cyril Magnin Street) is offering a special Ladies of Leisure Package. The exclusive deal includes overnight deluxe accommodations in a Bay view double guest room, 2 deluxe Mani/pedis from the Burke William Spa, 2 complimentary cocktails and a bar bite plate at the Cityhouse Bar, 2 complimentary breakfast buffet coupons, a $25 Sephora gift card, and 2 movie passes to nearby Westfield Century Cinema.
The Cityhouse Bar will also be serving speciality cocktails throughout the weekend, including a delicious drink called the Mommy Dearest. Sweet and nutty, this inventive aperitif mixes Frangelico with pomegranate liqueur for an unforgettably crave-able flavor. While it may not be the manliest of alcoholic combinations, your mom is sure to enjoy it and that's what it's all about this weekend.
If you have yet to check out the Cityhouse, now's as good a time as any. The friendly vibe at this whimsical watering hole is equally as inviting to tourists and locals alike. It also helps that the deals will be even sweeter than the speciality drinks.
Call (415) 392-8000 in order to book space for yourself or your family over the next few days. Space is limited and don't be surprised if it fills up fast. Everyone loves to stay in the City by the Bay.