Q&A: Renee Scroggins of ESG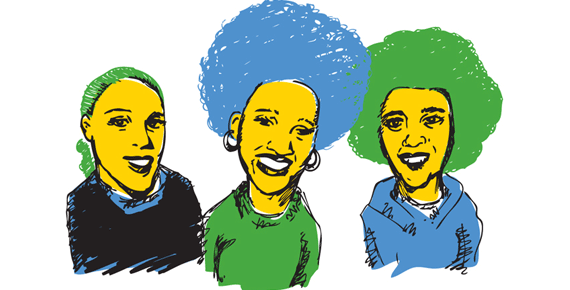 Saturday, March 3, No Way Back brings ESG to Mezzanine for their last ever tour. ESG, which stands for Emerald, Sapphire, and Gold, is a band of sisters—Renee, Valerie, and Marie Scroggins—who got together in the late '70s on the insistence of their mother who gave them instruments to keep them busy. They quickly found their passion in dance music, creating a blend of post-punk, disco and funk that fit in across a range of underground scenes that developed in New York at the time.
ESG has seen a lot in the 34 years they've been writing and performing, but soon they will move on to other projects. I took the chance to catch up with Renee just before ESG starts their tour here in SF to get a quick account of their history.
Whom did you aspire to play like when you first picked up your instruments?
We were very influenced by James Brown. We grew up on Motown, jazz, and gospel. One of my favorite groups was Queen.
When did you start performing?
When our mom thought we were good enough she started entering us in talent shows. Then we met Ed Bahlman from 99 Records and he became our manager and started booking us for different punk rock clubs in the city.
When your mom listened to you perform did she give you any direction?
Yeah, but my sisters and I were the primary writers of our music. It was basically what we felt and what we heard. A lot of songs are based on relationships, good and bad, and a lot were just about dancing and having fun.
http://www.youtube.com/watch?v=hOgmf_Vb8S0
What was the first club you played at?
The first club we ever played at was this place called Mechanics Hall. I don't think it's open anymore. We played The Mudd Club, Danceteria, The Paradise Garage…
How was Paradise?
It was one of my favorite clubs to play, actually, because it had one of the best sound systems. We got to play the closing two nights for Paradise Garage. I'm really sad it's no longer in existence.
How did it compare to the punk clubs?
It was a totally different experience. The Paradise Garage was a lot of black music and underground music, really funky compared to the punk clubs. I would hear things I'd never heard before, and it was all really interesting.
Were there any groups around you who you felt influenced your sound?
No, I don't think anybody ever really influenced our sound. Other than James Brown for technique, no one influenced our writing. The sounds were just things we heard in the city. But as we moved on, we actually went and did some things with Soul Jazz Records and at that point we brought our daughters into the band. When we did that, we started to write more about relationships and issues that we wanted to address with them.
On the Step Off Album we did a song called "Talk It," which was about phone sex. My daughter said, "Oh my god, no, Mom, we're not going to sing a song about this!" and I said, "Why not? People do it!" Then we wrote a song called "Six Pack of Love" which was about condoms and protecting yourself to a rock style groove.
ESG has been named as a prominent No-Wave band. What is No Wave to you?
It's a weird definition from what I understand, between disco and punk. I don't consider our music that, I just consider it dance music. That's all I've ever defined ESG's music as being.
You have had lots of issues with sampling. How does this make you feel?
I hate it with a passion. People say we should be happy that people like our music. I'd like it better if they paid me! For years, we went through issues of not getting paid for those samples. It wasn't until people started sampling the big groups when sampling rules came about, and then we were able to get restitution. Before that it was a mess. It's hard to create original music. For a long time I wouldn't write any instrumentals.
http://www.youtube.com/watch?v=1o5vuMYQyhE
How long did you have problems before the sampling laws came about?
It took a good 15 to 20 years to get paid. It was really frustrating all the time just turning on the radio and hearing my stuff and knowing that these people were making a profit. At that point, I was still living in the projects with my kids struggling to get by.
When did you and your sisters start families?
That was early. We both had our babies the same year in 1982. Being pregnant or having children never stopped us, we went right on through because we really loved performing and we really loved music, so we did what we had to do!
What's in store for your last album, Closure?
I think as you go along, you mature more in your writing styles and technique. In our early years, it was more simple chants and fun lyrics. You don't have much life experience under your belt.
With Closure, even though I wrote a couple instrumentals, there's a song in there that my daughter sings and it's called "The Pain" and it's just about when life gets rough, you gotta hang in there. "I Feel Tonight" is a real salsa type of song; it was just something I thought about growing up in the Bronx back in the day. We didn't have air conditioning so we put a screen in the window. At night, the Latin people would be in the park and playing their percussion and their coke bottles and cowbells all night and either you learned to sleep through it or grew with it. It was inspiration though, during the day I never forgot those sounds that I heard.
ESG plays live at Mezzanine Saturday, March 3 with support from Junior, Conor and Solar. Tickets are $20 – $25 and can be purchased here.