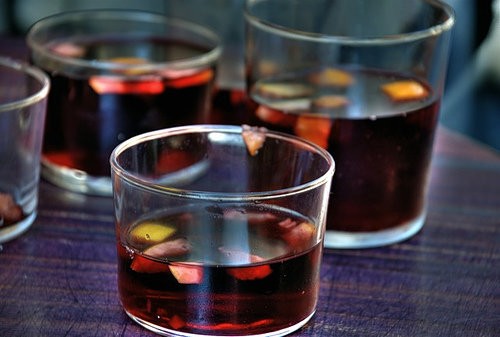 It's Valentine's Day tomorrow, which for many is Drown Your Sorrows in Drink Day. Time to make yourself a little cocktails. Here are some special recipes to help you on your way.
Sangria Roja
Ingredients:
1 1/2 oz Silver Tequila
1 1/2 oz Pinot Noir
1/2 Lime Juice
1/2 oz Agave Nectar
2 oz Grapefruit Soda
Directions:
In a stemless wine glass or lowball glass, mix all ingredients, except the grapefruit soda. Add ice and top off with grapefruit soda and stir. Garnish with lime wedge.
Skinny Cranberry Cordial
Ingredients:
1 oz Camarena Silver Tequila
1/4 oz Crème de Cassis
1 oz Apple Juice
1/2 oz Light Cranberry Juice
1/2 oz Lemon Juice
Directions:
Combine liquids in cocktail shaker with ice. Shake to blend and chill. Strain into chilled martini glass. Garnish with a lemon wheel.
Blue Ice Raspberry Truffle
Ingredients:
1 oz Blue Ice Vodka
3/4 oz Coffee Liqueur
3/4 oz Raspberry Liqueur
Fresh Whipped Cream
Directions:
Shake with cubed ice and strain into champagne flute glass. Float lightly whipped fresh whipped cream on top. Top with Semi-sweet chocolate shavings.