2011. Where did the year go?
I have compiled a list of some of the most memorable experiences I had this year in the San Francisco Bay Area based on the five senses.
It was quite an interesting year to say the least. While trends come and go, I like to recap on things that meant something to me whether it was buzzing during the year or not. There is always a first time for everything after all. To me, food is not just for sustenance. Food has become more than just something that is put in the mouth, chewed, and swallowed. So many sensations occur in that process and judging from all the foodies and gourmands nowadays, I am not the only one who feels that way.
Sight: Often times, I look back on all the pictures I took in the last year and I surprise myself that I ate some of the things I did…
Ringmaster Burger from Straw:
Step right up! I could not believe my eyes that there was a cheeseburger at Straw in Hayes Valley that used glazed donuts as buns. It may be a little sweet for some tastes, but my husband and I loved it – the way that the doughnut seemed to melt in our mouths while we chewed. We had a great dinner at this carnival-themed resto complete with sweet potato tots, hot chicken wings, and cotton candy.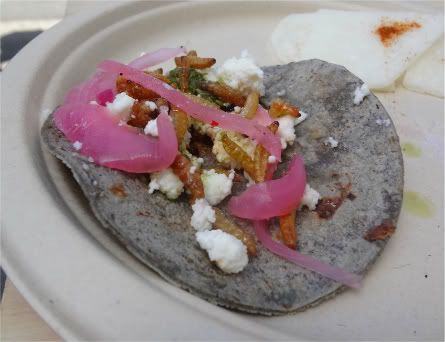 Wax Moth Tacos from Don Bugito at the 2011 SF Street Food Festival:
At first sight, I was ready to pass on it. How does one eat such a taco? My friends talked me into it. It became one of the most memorable foods I ate this year. The nuttiness of the wax moth larvae was awesome with the fresh cheese. If I was blindfolded, I would not have thought there were bugs in my taco. Would gladly have another.
Crawfish Beignets from Brenda's French Soul Food:
As a food blogger, pictures are very important. This is my favorite picture of 2011. Not only was the fried dough perfect in texture, the crawfish filling was divine. A must-have when at Brenda's. Other dishes we loved during this food excursion were the shrimp and grits, Brenda's fried chicken, the watermelon pickles, and those buttery biscuits.
Smell: Taste and smell go hand in hand when it comes to food. If it smells good, more than likely the food will taste good too. One of the following dishes shocked me that that is not always the case – sometimes the smell can be putrid, but the flavor is awesome.
Shaking Beef with Truffle Garlic Noodles from Little Green Cyclo:
Garlic and truffle are two of my favorite scents and they are perfect in this dish presented by this Vietnamese food truck I discovered just this year. The duck confit spring rolls are also a win with delectable shreds of duck meat and fresh veggies. They also won the 1st Annual SF Eaters Choice Awards awarded at Fort Mason. Now that is legit.
Uni Flan from the Fifth Floor:
Prior to my first visit to the Fifth Floor, I had only eaten uni once and I was not too fond of it. During the dinner, I had to be convinced to order it. I spooned, sniffed, and got a little pepper at first but then straight ocean-aroma. After all, uni is simply sea urchin. I took a bite and was miraculous. The luscious uni combined with the creamy smooth custard was heaven. Just heaven. The flavor of the flan was very subtle and delicate.
Bonus: Chef David Bazirgan, creator of this dish, was voted Hottest Chef in America. Sexy dish. Sexy chef. Win.
Pinakbet Pizza at Mercury Lounge
Pinakbet is a Filipino dish typically comprised of vegetables such as Chinese long beans and eggplant that are stewed. I scratched my head when Chef Dom told me he was making a pizza topped with pinakbet with a sauce made with bagoong, or fermented shrimp paste – a Southeast Asian condiment with that pungent smell and equally strong taste. A little does go a long way, so slathering it on a pizza was a bit iffy for me. It is taboo to some to mix cheese and seafood, so this was probably going to be blacklisted immediately once set on the table. I ate my words. Surprisingly, the combination totally worked (for me at least) and it still resonates on my palate. The cheese muted some of the harsh fishiness of the bagoong and the tomato lent a bit of tang and sweetness. Who woulda thunk?! Picture courtesy of Jun Belen
Sound: The clinking of champagne glasses, onions and garlic sauteing in a pan, chefs shouting orders, a knife sawing through a loaf of crusty bread – it is music to my ears.
Bloody Mary made by H. from Elixir:
Shake shake shake. I attended the breakfast cocktail class called "Wake Your Palate" at this year's SF Chefs led by Duggan McDonnell of Cantina and H. of Elixir. H. made us his famous Bloody Mary which had the perfect balance of acidity and pepperiness. And do not get me started on those arms! Also prepared were Brandy Milk Punches, Pisco Sours and Ramos Fizz.
Chicken Sisigsilog from Tselogs:
Sizzle sizzle sizzle – when that sound is heard it is default for diners to turn their heads to see if their breakfast is coming. A small cast iron skillet, no more than 6 inches in diameter, is heated and a medley of diced chicken and onion is thrown on causing that wonderful sound. To add more sizzle, squeeze some lemon juice on top then enjoy with garlic fried rice and eggs.
Chef Ferran Adria Speaking with His Translator at the Castro Theater:
While the announcement of the closing of elBulli was sad (even for those who have never eaten there), the sound of Chef Adria's voice in harmony with his translator's definitely got the crowd's attention. Whom some called a "genius" and "mad scientist," Chef Adria talked about his inspirations and his plans for the future. Everyone, from Food Network stars, to Michelin-starred chefs, to everyday food lovers were all ears.
Chef Hubert Keller DJing at the SF Chefs Friday Night Party:
French chef Hubert Keller not only creates sumptuous dishes at his renowned Fleur de Lys, he sure knows how to party! His skill at the turn tables and his energy on the dance floor at The City Club puts some young guys to shame. I apologize for not having a picture!
Touch: Food can be touched, and at the same time, it can conjure emotions as well. That is the beauty of food.
Peel and Eat Shrimp at Red Crawfish:
For those who have known me a while, they are aware that I am lazy when it comes to peeling shrimp. I hate dingy fingers and that is what peeling seafood does to your digits. For some reason, the Boiling Crab buzz hit me and I was peeling shrimp like no tomorrow. The only bad thing about having a Boiling Crab obsession is that there is not a location in San Francisco.
That is when I searched for places in the City that were comparable to BC. Enter Red Crawfish. The recipes of course are not identical, but it satisfies my craving whenever I get a hankering. My husband, who never enjoys going to BC because of his seafood allergy, appreciates Red Crawfish's menu that includes beef short ribs, garlic noodles, and sausages.
Kamayan Menu at House of Sisig:
Nestled in a strip mall in Daly City, House of Sisig is probably one of the Bay Area's best kept secrets for communal meals. Just picture large banana leaves laid out on the table and a wide assortment of grilled meats and vegetables literally dumped on top. All the diner has to do is dig in with their hands – the true Filipino way of eating.
Noche Buena Dinner at Intramuros:
This meal touches my heart more than anything. Noche Buena is a custom in Catholic countries where family and friends meet for a glorious meal after attending church on Christmas Eve. Chef Cocoy created a menu for us that included pineapple roasted ham and noodle soup. Never having been to a Noche Buena in the Philippines myself, I was happy to see this tradition manifest itself in the US.
Taste: This probably my favorite section. The pleasures experienced by the tastebuds.
Mission Motsu from Nombe:
From the moment my friend Cristina told me about this dish, I knew we had to try it. From the smokiness of the grilling to that distinct flavor that tripe has to the luscious creaminess of the avocado, I was absolutely hooked. Perfect with a Japanese beer and steamed rice. Better yet, chatting with Gil, Nombe's "sake sommelier" was an educating experience making me appreciate sake a bit more. Sake bombs, no more!
House of Prime Rib:
Okay, so I have had HoPR before, but I try to make it out there at least once a year.  I do not have it often, so when I do have it, it impacts me and I crave it again right when I leave the restaurant. The tenderness and flavor of the slow-roasted meat that has been swiped through the au jus are just a couple of reasons why this is going to be a favorite of mine for years to come. Classic San Francisco.
Hapa Ramen:
I had my first Hapa Ramen bowl with one of my favorite chef friends, Joe. All I remember is the tender pork belly and noodles with the perfect doneness. Some of the best ramen I've had ever. Come 2012, Chef Richie at Hapa Ramen will open a brick and mortar on Fillmore Street near Japantown. It will be a great addition to the neighborhood. I can taste the rich broth now. Cannot wait.
Spicy Tomato Pizza at Gather pictured above:
Something I came to appreciate more in 2011 was vegetarian/vegan food. I was invited to vegan potlucks, ate at veg-friendly restos (such as No Worries and Source), and came to like vegetarian foods (like vegan Indian pizza at Zante's). The vegan Spicy Tomato Pizza at Gather in Berkeley was amazing! The dough's texture was phenomenal and the zesty toppings made for one remarkable pie. Thank you, Chef Sean Baker
*note: All photos (minus Jun Belen's pinakbet pizza) were taken by Joanne Boston