Crazy Night at Candlestick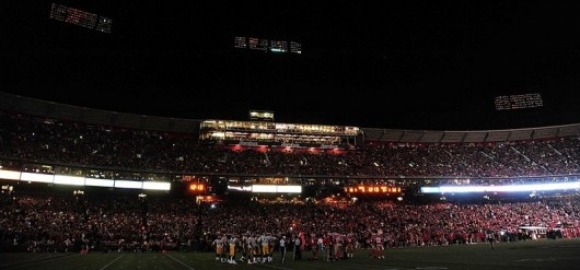 It was a "lights out" performance by the San Francisco 49ers on Monday Night Football as they defeated the Pittsburgh Steelers 20-3 to maintain a hold on the number two seed in the NFC.
But perhaps overshadowing the great win was a malfunction near the stadium, as a transformer blew prior to kickoff, leaving Candlestick, fans and the teams in the dark. The game was delayed about 20 minutes until the lights fully came back on. And then in the second quarter, the lights went out again for another 15 minutes.
http://www.youtube.com/watch?v=ILMiXbfW60k
In a statement, San Francisco Mayor Ed Lee said they would fully investigate the cause of the two outages. PG&E said they are still looking into what caused the problem, but said that a city-run power switch failed to keep the power on and was likely the cause of the first outage. Officials said they are still not sure if both are related.
The San Jose Mercury News also reported that San Francisco police were out in force during the outages looking for a bomb. Police said that just before kickoff, they received a phone threat that there was an explosive device at the stadium. It was determined that there was no merit to the threat.
The off the field problems took away from a great game by the 49ers, who remain one of the best surprises of the 2011 season. If they win out, they will clinch a first round bye in the playoffs and the number two seed.
Photo Credit: www.larrybrownsports.com