Opening: Near Modern Future
Curator Marlon Sagana Ingram enlists two members from the East Bay's Black Diamonds Shining to do an awesome show with him this weekend.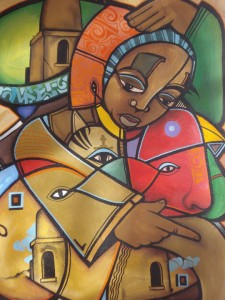 This Friday, December 16, marks the opening reception for Near Modern Future, a three-person art show featuring pieces by Ras Terms, Deadeyes and MSI at the Roll Up Gallery. These self-described "graffiti writers turned modern artists" are known for their afro-futurist works and intend to use "modern teachings to produce a better way of visual thinking for the future." Expect lots of color, top-notch skill and a slew of thought-provoking pieces.
The event is 21+ and begins at 6pm.