Asmbly Hall brings Classic Collegiate Style to Fillmore Street
Husband and wife team, Ron and Tricia Benitez, have created a retail destination on Fillmore Street that they hope will serve as a place for lovers of fashion, music and art to connect.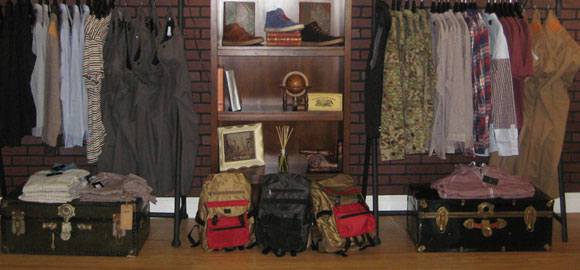 Inspired by Take Ivy, a collection of photographs of Ivy League prepsters in the 1960s, Ron and Tricia transformed an empty space into an assembly hall. The faux brick walls, weathered blonde hardwood and leather chairs all hark back to the academic feel of students lounging in the quad.
At Asmbly Hall, visitors will find updated preppy fashions with sophisticated urban appeal. For women, there are currently great outerwear selections that include a plum fleece jacket with a ruched silk collar ($108) and a houndstooth cape with a fur collar ($78) that both exude style with comfort. A fleece black jacket whose cut is clearly Coco Chanel-inspired and seems a steal at $68.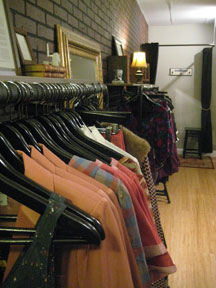 There are other items to round out the wardrobe that include sporty tees and fitted flannel shirts ($78) by Bridge & Bum. Lacy dresses and pink cardigans with sequins add a bit of feminine flair that is timely for upcoming holiday parties.
Unlike many boutiques, Asmbly Hall also caters to men. In fact, half the space is devoted to menswear. This season, the most popular style features shawl or scalloped collars. These appear in dress shirts, cardigans, outerwear and pullover knitwear. Tees by GPJP and Makia in graphic prints with catchy tag lines make great layering pieces underneath chunky sweaters and funnel collar jackets.
Ron explains that the men's clothing is for "a guy who cares about craftsmanship and quality with a modern and novel twist."
Take for instance the collection by The Scifen Company, which offers a blue oxford shirt that is fitting for Casual Fridays, but upon closer inspection one finds a circle pocket rather than the standard square. Shirts range from $78 to $88 and jackets start at $106.
The boutique is a fresh addition to the shopping destinations on the southern slope of Fillmore Street,  where chain retail stores and high-end boutiques tend to dominate. With Asmbly Hall, Ron and Tricia offer fashion-forward styles that are not mass-produced while easy on the wallet. Tucked under some heavy foliage, one may miss the storefront on the initial pass but its unobtrusive presence seems fitting—hidden, underground and exclusive.