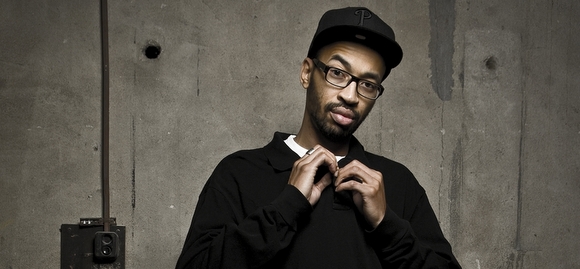 A well respected pioneer among the hip hop, funk, and soul community, Rich Medina is not only a DJ but also a poet, journalist and more. The legendary tastemaker mans the turntables at SOM on November 26.
We caught up with Rich while he was doing his regular Philadelphia to New York commute to work and discussed his East Coast grind, projects outside of DJing, and more.
King Britt ft. Rich Medina "Planetary Analysis"
You travel back and forth from Philadelphia to New York constantly, what's your transportation method of choice?
If I'm just cruising to New York and don't have a lot of things on deadline, I like to control the driving and call my own shots. But when I'm bogged down by work and my hands are full, I like to get on the train because it buys me an hour and a half to get things done.
I've been commuting to New York for music related business weekly since 1992.
Your roots are in Philadelphia and you were named an ambassador to the city as well. What local artists inspired you the most while growing up?
My understanding of Philadelphia music came through my sister who was eighteen years older than me. She was a huge fan of Philadelphia International Records and I grew up inheriting her musical taste. My sister just happened to be a really hip young lady when I was a small child.
As a kid growing up central Jersey I was an hour from Philadelphia and an hour from Manhattan. I've had a somewhat intimate relationship with Philadelphia since I was a child. All the artists – Teddy Pendergrass, The O'Jays, Patti Labelle, Leon Huff, of course DJ Cash Money and DJ Jazzy Jeff – all the usual suspects.
You just did a TED talk in Philadelphia, have a partnership with New Balance, and are working on other projects besides music. What is your motivation behind branching out and is this something you've done your whole career?
People who follow me as a spoken word artist, a disk jockey, a journalist and writer have all seen me do my diligence and at this point I'm just trying to broaden the platform, diversify the brand. For a good while in the 90s I was a bit of a jack of all trades but as things have matured I have focused on the specific things that are most logical.
I've done it my whole career and think that obviously with age things grow finer and with practice things become perfect. I don't know if I really had as firm a grip on what brand diversification was but now and in the last 10 years it's definitely matured.
You were a contestant on season one of BET's reality DJ competition show Master of the Mix. How was that experience?
I had my skepticism going in with what the usual reality TV is but then I realized the caliper of the competition and the level of the names also on the show with me.
I felt like I was a wildcard and had nothing to lose so I was able to go there and really be free and myself. The biggest thing I got from it was walking away with my integrity, something very difficult to do in a reality TV situation.
You play all different kinds of gigs and all over the globe, are you ever in situations where you have to play music you don't like?
It depends on the angle of how you're asking that question. If I'm at a wedding I don't necessarily want to hear Billy Joel's "Big Shot" but if someone wants it, it's part of the job.
On the independent level, when it comes to club or party bookings, I don't find myself in the position to play things I don't want to. I believe that at the end of the day as a DJ you're being paid for your expertise and to entertain and educate people.
If people want to make requests, they can go to a karaoke bar or listen to the radio and hear all the hits they want for free. If you come to my party and I'm playing records that are already being over-saturated by the media, I'm disrespecting you and your money.
I'm blessed to make my entire career on being a maverick and independent. People don't need me to play that, they have a million ambassadors for it already.
Rich Medina DJs at SOM with King Most and Hakobo on Saturday, November 26. More info.
Ellen Lovelidge is a writer and DJ, for more on her check out djlilelle.com or follow on Twitter at @djlilelle.