Mission is #1 for Bike Thefts
In a study of Craig's List postings, Phil form Club Antietam found that the Mission has more bikes reported stolen than any other neighborhood in the Bay Area.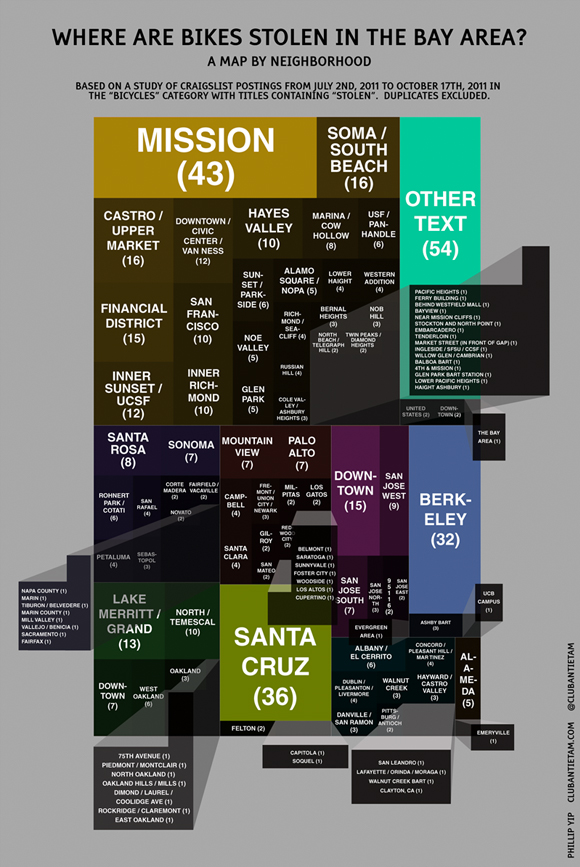 Or maybe people in the Mission are are just the most optimistic. Has anyone ever really gotten a stolen bike back after posting it on Craig's List?
If you don't want to be another one of Phil's statistics, try some of these tips for securely locking your bike.
✓ Always use a good U-lock
✭ Cable locks are better than nothing, but they just don't cut it. Or rather a thief can cut it, you get the idea. If you do use a cable lock, opt for one that has a built-in lock. Padlocks can be easily cut with bolt cutters. A new, sharp bolt cutter will cut also cable, but an old, worn-out bolt cutter will only crush a cable.
✭ And make sure the U-lock is going through the bike frame, you didn't dish out cash on a fancy lock just to come back to a lonely wheel.
✭ Or try the Sheldon Brown lock technique. Position the U-lock around the back tire inside the the rear triangle.
✓ Lock up any removable parts
✭ Secure the wheels. Remove the front wheel, cozy it up to the back wheel and lock up the whole shebang with the Sheldon Brown technique. Or use a cable to secure the front wheel.
✭ If you can only lock up one wheel, lock the back one. With all the gears and special bits, it's about twice as expensive to replace as the front wheel.
✭ Take easily removable parts such as the seat and front wheel with you. Obviously these pieces are inconvenient to carry around, but if you are at work or home you can be assured these pieces are safe without too much hassle.
✭ If removing the seat is inconvenient, secure it with a special seat cable.
✓ Lock your bike to something secure
✭ Use common sense. Don't lock your bike to something that could be easily cut through or is loose in the ground. Don't lock your bike to a pole or post where the bike and lock could be lifted up and off.
Check out this video from Streetfilms and see if your bike locking techniques make the grade.
Have any additional bike locking techniques or theft stories? Share them in the comments section below.
Photo Credit: Boston Bike