Bikes & Beats with Jon H of Fort Knox Five
Fort Knox Five is one of the biggest movers and shakers in the modern funk music scene and member Jon H regularly excites dancefloors with his infectious beats and fun loving nature. He comes through the Bay Area this Friday to rock the Bikes & Beats benefit party at Public Works along with J Boogie and many others.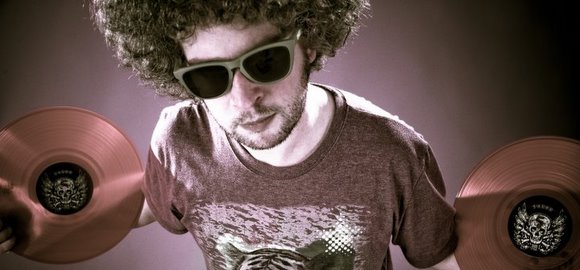 We spoke to Jon H right after playing the East Bay's Earthdance festival while he was back in his homebase of Washington, DC about his love for the Bay, Fort Knox Five's diverse style, and what's next for the group. Check out one of their recent mixes below.
San Francisco's awesome, I love it out there, I could move there in a hot second. It's so conducive to musicians, and DJs, and really just people who love music or art in general. There's always something to do.
I think DC and San Francisco are two of the most liberal places in the country. Sure, in DC there are a bunch of people who are here temporarily representing the strange powers in the Senate and Congress but in reality the residents of DC are very liberal. On that kind of feeling, there's a big connection between the cities. There really are so many connections – anti-war, culturally international cities.
Also, musically there's a great funk scene happening in DC with go-go funk, and San Francisco has always had a great funk and live music thing going on.
You come here a lot, what do you usually get into when you're in San Francisco?
I really like just grabbing a bike and biking around there. My wife and I would go to Burning Man quite regularly and afterwards come stay with friends in SF. It's a great city to get exercise in and you can just walk forever, especially if you're blessed with good weather. It's the most gorgeous city in the world if there are blue skies.
Fort Knox Five is such a great music entity; what do you guys consider yourself as in a band, or a DJ collective, or…?
I think we're really a music collective – we have a full live band that we're involved in, three out of four of us are DJs, Sid is also a DJ but is now getting into the whole live visuals thing and making an audio-visual experience.
We want to be a multimedia conglomerate and represent all the different cultures with the design aspect and then DJing and making music together. We want to incorporate all the different aspects of music and build a type of family out of that. You have all these artists like Nappy Riddem and See-i who have released music on Fort Knox Records and they're all people we work with and collab with.
Radio Free DC and Radio Free DC Remixed were your last two albums, what is up next for you guys?
Well we're working on some scoring projects right now, mostly video game stuff. Our main focus though is to make a new record since we've spent the last year curating releases from other artists, it's coming full circle and we've quadrupled our catalog. Now it's time for us to come back and release our stuff. The new album will be a little bit of everything with a piece of all of the other artist's albums that we have been releasing.
You guys really have no boundaries on style – you work with music from Louis Armstrong to A-Skillz – has that changed over the years, opening up to more things, or has it always just been a search for all-around great music?
I think we're definitely very selective. If someone brings something to us and we're not digging it, we don't do it. Sometimes we dig ourselves into holes because we want to do remixes with all these great artists but then we just get bogged down by so much good music being thrown our way from other people. What we're trying to do now is clear out our schedule and make our own music, original music.
As far as styles go we've kind of always been anti-genre and to me genre's are a wack way of marketing music. We like party music – it can be electro, dubstep, hip hop, breakbeat, funk, soul, house, techno, whatever. There's a little bit of that in everything and I understand the need for a genre but it's really counterintuitive for people trying to express freedom because you're limiting yourself and your scope.
BIKES & BEATS ft. J Boogie's Dubtronic Science, Fort Knox Five, and others is tomorrow, Friday, October 7 at Public Works starting at 9pm. More info.
Ellen Lovelidge is a writer and DJ, for more on her check out djlilelle.com or follow on Twitter at @djlilelle.