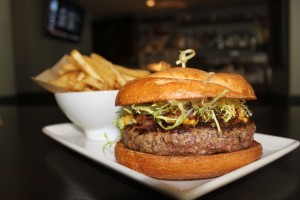 It is the Golden Age of ground beef. Nowadays high-end restaurants across the country frequently feature some fancy rendition of a hamburger. But whereas some of these eateries struggle to infuse this all-American classic with creativity, Jasper's Corner Tap (401 Taylor Street) offers an inspiring incorporation of quality ingredients known as the J Burger.
It was a couple of weeks back during Cocktail Week when I first made my way into this classy downtown bar and restaurant. To accompany the creative libations being cranked out up front by the bartenders, the kitchen kept bringing out some of their trademark appetizers and small plates. While perusing the menu, I spotted the J Burger and knew that I'd be coming back very soon to see if it was indeed as delicious as it sounded.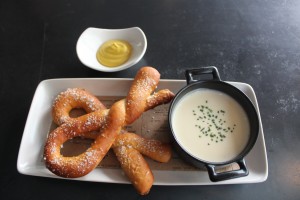 Head Chef Adam Carpenter, and Sous Chef David Sean have assembled a griddled, half pound patty of organic, grass fed kobe beef and doctored it up with the intense flavor of bacon onion marmalade, an English bleu cheese that is actually orange, and black pepper aioli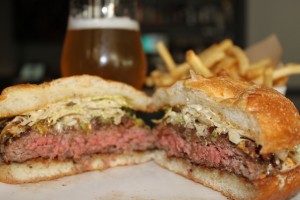 sandwiched between a sour dough baguette bun. The burger is served with crispy, shoestring fries for $15. Pretty much the same arrangement is also available in a smaller size as a slider on the appetizer menu.
My tastebuds were supremely satisfied with the crafty arrangement of ingredients comprising the J Burger. The bleu cheese was hardly overpowering, as it usually tends to be. In fact, it was difficult to single out the sharp and salty character of the cheese at all. Instead, I was inundated by the pure power of the high-quality beef itself: a touch smoky and entirely juicy. The burger was actually so moist that I wish the baguette had been toasted slightly more in order to accomodate all of the meaty wetness oozing out of this delicious blend of ground beef.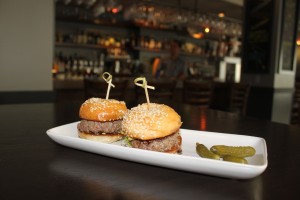 Michael, the knowledgable mixologist behind the bar, had the foresight to pour me a sour wheat ale that perfectly cut through the robust tones of this monstrous bacon-cheeseburger. This was hardly an accident–Chef Sean let me know that most dishes here were created to ideally mesh with a particular cocktail or beer. With more than a dozen beers on tap, it's helpful to have such an experienced crew behind the bar to insure you'll find just the right pairing. With so many enticing entrees and a cocktail list that reads like a small novella, I look forward to matching up more deliciousness on my next visit to this exciting new eatery.