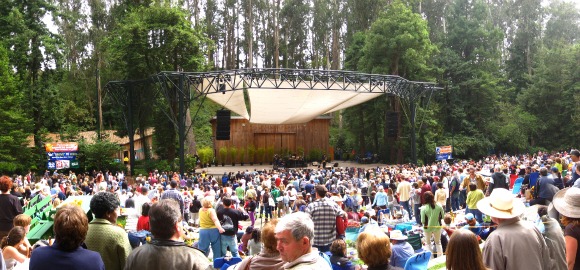 Free music and warm weather is like doughnuts dunked in coffee. Sadly, the relationship is slowing breaking up as the summer concert season comes to an end. Stern Grove is ending its free Sunday music series with a sophisticated grand finale. 
This Sunday, Aug. 21st at 2 p.m. the San Francisco Opera and its orchestra will perform arias and solos for free. The performance will feature internationally known singers. It's going to be a show that would normally cost anywhere from $30-200 per ticket at the Opera House.  Even better, enjoy nature at its finest for the outdoor concert.
This summer has been successful for Stern Grove Festival. The weekly event featured sounds from Neko Case, the San Francisco Ballet, the San Francisco Symphony, Afrocubism, and the Jazz Mafia Symphony. Hundreds of folks attended the Sunday afternoon gatherings, bringing lawn chairs and picnics.
Give it a try this weekend– Sunday's forecast predicts afternoon sun and a 60-degree high.  Visitors can bring food, but alcohol is not permitted. Parking around the park is limited so folks are encouraged to bike to the event. A free bike valet located at the main entrance starts at 10 a.m. and ends one hour after the concert. Bikes aren't allowed in the seating area around the stage, so this service provides a secure place to lock up your wheels. Finally, leave Fido at home, pets aren't allowed.
Sunday, August 21st at 2 p.m.
19th and Sloat Boulevard, San Francisco.
Photo Credit: Panic