Q&A: Giovanni Giusti of The Limousines
Bay Area electropop duo The Limousines, popular for declaring that "the kids are disco dancing, they're tired of rock n' roll," spread that message throughout their energetic, catchy tunes and especially fun live performances.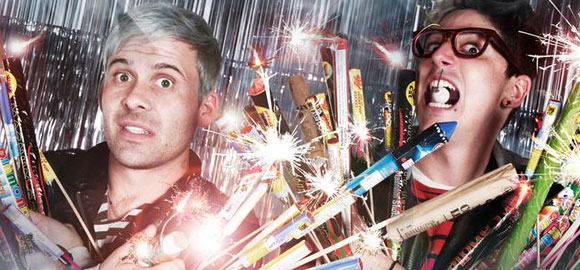 As producer, Giovanni Giusti creates the catchy beats over which Eric Victorino lays down his amusing, smooth vocals. Their first album Get Sharp was released in July 2010 and recently rereleased on their current label Dangerbird. We caught up with Giovanni at this past weekend's Outside Lands where the duo performed on the Panhandle stage Friday evening.
So what has the summer been like for you, you've been playing a lot of festivals and touring?
Yeah, we've had a long string of stuff since SXSW, which has been awesome. Pretty much right after SXSW, we jumped on tour with Neon Trees and did our first whole country run, which was really amazing, I had never seen the country before.
My favorite stop was probably New Orleans or, oddly enough, Vermont—for both the location and the show. I think the best actual show was probably Houston, we have a really great following there and I had never been before.
You seems to be really in tune with your fans throughout social networks. Is that all you or is someone else updating it for you?
It's all me and Eric, both running our Twitter and Facebook all the time. When we signed with our label, we made sure that we would have control of it; it's really important with the fans and for artist relations. We'll directly reply to whoever; you've gotta do that.
The more you make records and music, do you see yourself ending up on a big label one day?
It's hard, we've gone so far ourselves. We've played Treasure Island and all these awesome festivals on our own and it's gone great so far. We were signed on a singles deal with Universal that really didn't work out so it's kinda a weird deal with big labels. A lot of it you can do yourself and I like to promote that among other bands. If the stars were aligned and everything was right, sure, we'd conform to a big label.
You got your start with the MySpace generation 3 years ago. If you were starting out now, would you do it any different or would it be all the same?
I would do it all the same. When me and Eric first started with the MySpace thing we didn't even know we were going to be a band. We just threw up songs. It was crazy how it picked up; we just got the attention so fast.
Are you working harder or any less hard three years into the game?
Working so much harder. I was working construction doing glass and just dicking off, making beats and sending them. Now I'm like "it's a full-time job we gotta work hard."
How did you guys get inspired to create the indie electropop sound in your music today and what can we expect for the future?
G: When me and Eric first got together I was doing a lot of hip hop and I did a Jay-Z remix album that he heard. But I was listening to a lot of bands like Tel Aviv, and Squarepusher who kinda influenced me to change my style up and start doing electronic music. It was really downtempo stuff that I would send him and he would start singing on it and put it together. Now we work in a closer environment with more poppy stuff, yet more gritty.
Check out the hit zombie video for The Limousines' essential dance song "Internet Killed the Video Star."