Preview: Two Nights of Funk Ark
Washington, DC's eight-piece afrobeat ensemble The Funk Ark comes through the Bay Area this week while celebrating the release of their new album From the Rooftops.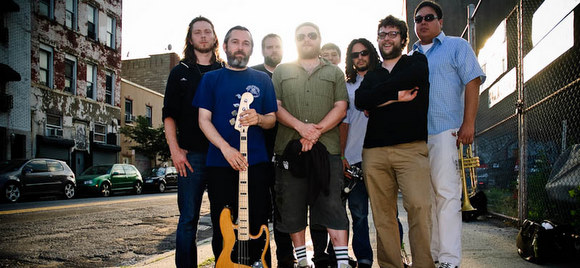 Led by keyboardist and singer Will Rast, a friend of local favorites Thievery Corporation, the group's 1960s and 70s African and Latin funky dance music influences clearly shine through on their energetic tracks. This Thursday and Friday they'll be performing on both sides of the Bay with bouncy, vintage sounds and a packed dancefloor.
Check out one of the tracks off From the Rooftops below.
[audio:/wp-content/uploads/2011/08/Funk-Ark-el-beasto.mp3]
The Funk Ark "El Beasto"
The Funk Ark performs Thursday, August 4 with Afrolicious at Elbo Room in SF and Friday, August 5 at Ashkenaz in Berkeley.