New Mixtape: Black Joe Lewis & The Honeybears
Following the March release of Austin's neo-blues band Black Joe Lewis & the Honeybears' third full studio album, Scandalous, Mad Decent Records mixmaster Derek Allen aka DJA infused their sound with hip hop rhythms to produce a hot new mixtape, Livin' in the Jungle.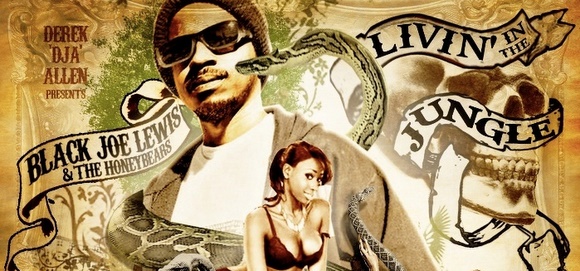 The mixtape features Black Joe Lewis' crooning voice over Allen's bass-heavy samples with the occasional hip hop lyrics thrown in for more of a party atmosphere. Rappers like newcomer Yelawolf or legendary Bun B are laced over the Honeybears' instrumentals, adding flavor while maintaining the soulful feel of the originals. Check out two tracks below and download the mixtape at this link.
[audio:/wp-content/uploads/2011/06/02-Booty-City-featuring-Yelawolf-Bun-B.mp3]
Black Joe Lewis & The Honeybears "Booty City (ft. Yelawolf & Bun B)"
[audio:/wp-content/uploads/2011/06/03-Shes-So-Scandalous-BMF-Blend.mp3]
Black Joe Lewis & The Honeybears "She's So Scandalous (BMF Blend)"
Audio, Black Joe Lewis, Blues, Bun B, Derek Allen, DJA, download, Hip Hop, Mad Decent, Mixtape, Soul, Yelawolf