Review: Kreayshawn & the White Girl Mob
Ten days ago, before her "Gucci Gucci" video dropped, Kreayshawn was just another little-known rapping white girl YouTube sensation from Oakland.
1.2 million views later, she's been all over the Internet, from an interview in GQ to interest from Snoop Dogg and Drake through Twitter. To say her first official performance was highly anticipated is an understatement.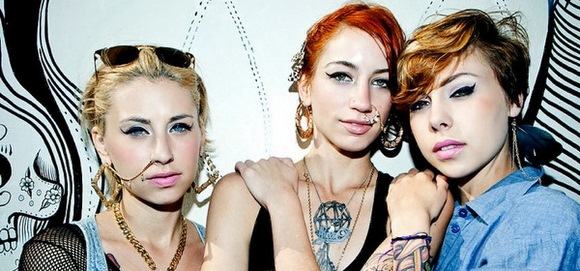 The event, featuring Kreayshawn's posse White Girl Mob, was held on Friday at a sold-out and packed SOM. The opening DJ played new hip hop bangers, heavy on the Gucci Mane, as the young, mixed crowd shuffled in, discussing how excited yet curious they were about the show. Around 11:50pm the hype man got on the mic to start it off, reminding us that this was the "who's gonna sign them party" and record companies were abundantly present.
The openers, including rappers Erk da Jerk, Los Rakas, and Mistah Fab brought up the crowd's energy as well as shouts for the main event. Kreayshawn, along with White Girl Mob's other MC V-Nasty and supposed DJ Lil Debbie, danced along on stage during the opening acts, looking ready to perform but definitely new at the game.
The girls took center stage around 12:30am, decked out in hipster-meets-hood attire including huge gold earrings, vintage threads, and Kreayshawn in a Disney's Goofy hat. They confidently sailed through the short tracks, most off of the recent Kittys x Choppas mixtape, with Kreayshawn as the clear leader, V-Nasty rapping along, and Lil Debbie bobbing her body to the music between them to the based, Jock Jams-esque tunes.
Despite constant mic interference, the DJ over-excitedly cutting out to hear the crowd sing along, and V-Nasty dropping the N-bomb like it was going out of style, the crowd stayed rowdy the entire performance, with hands in the air and constant shouts of "Swag." Kreayshawn's ability to entertain was sealed about seven songs in with her ode to Amy Winehouse, which had everyone singing along. Rapping her final and most popular song, "Gucci Gucci," the crowd went wild and you could tell Kreayshawn knew she had done it; shown everyone in the house that she was clearly capable of keeping the magic alive beyond YouTube and that swag really is pumping out her ovaries. Give them a few more shows, they'll smooth out the kinks, and a year from now have us blown that they've just now gotten their start in the mainstream.