$2 Drinks With DJ Kool Karlo
One of San Francisco's dance club kings, DJ Kool Karlo spins records as both the leader of party crew Damn Gina! as well as solo nearly six nights a week, blowing crowds away from the Marina to Berkeley with his diverse music background and knowledge. We chatted about Damn Gina!'s start, how to request a song, and more.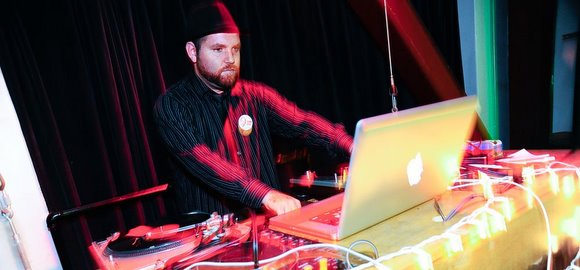 I met up with Karlo on Wednesday afternoon following Damn Gina!'s two-year anniversary party, in which members of the Oakland Raiders and Too Short were in attendance. He was a tad hungover, excited to get some caffeine in his system, but also riding high in the life of a professional DJ, enjoying late mornings, random skate sessions, and a relaxed schedule while nightly providing the ideal soundtrack to your party.
What is the background story behind your hit party crew Damn Gina!?
It started out as a happy hour at the Ambassador with $2 drinks. At first I was literally just pulling people in one at a time, begging my friends to come to the party. We started dropping off flyers at all the hotels and hostels, putting posters all over Union Square. We'd start at 2pm and Clayton ("Waitin' Clayton," now lives in Chicago) and I were putting up 200 to 400 posters all over San Francisco every Tuesday. Eventually it got to the point that we got a letter from the city saying they would come after us if we kept putting up all the posters but by then it was too late.
That's where the name came from. The party was originally called "Holy Shit $2 Drinks!" and I was putting up a poster and said "Damn Gina! $2 Drinks!" and it stuck. I just changed the text on the poster and it's a brand now. It's a joke that just took off. We have stickers and T-shirts; people love it. Over the course of six months it just slowly got bigger and bigger and we started going until midnight, then 2am. Now we also have the Damn Gina! party in Berkeley that we've been doing for 9 months every Thursday at Shattuck Down Low, which is also $2 drinks.
What's the difference between "Damn Gina!" Tuesdays at the Ambassador versus Thursdays at Shattuck Down Low?
Ambassador is more on the house and electronic side. We've done hip hop there and I don't like doing it because the crowd's not into it. In Berkeley, you'd think there would be more people into electronic music but for the venue, it's more a hip hop or top 40 vibe. Once I get the place packed enough so you can't move, that's when I'll get creative. You've got to be more friendly and approachable when you start a night. Once you have a pack, that's when you start getting weird.
What's your favorite type of set or audience to play for?
I wouldn't have thought this before last weekend but I just DJed a high school prom at Supper Club and it was so much fun. These kids were all sober – as far as I could tell – but it's just a crowd of fresh kids, like 17 and 18, and I was playing a pretty top 40 set but they were losing their minds. It was cool to see this new generation of kids who were ready to party and dance and weren't jaded or sitting around waiting for the party to start.
Three songs that are guaranteed dancefloor killers?
I could say Bell Biv DeVoe's "Poison," but that's so generic; it's something about the drums on that track. For a club banger, I think it's surpassed Rob Base and DJ EZ Rock's "It Takes Two." Journey's "Don't Stop Believin." NWA's "Boyz N Da Hood," even if you're playing a house set all night, you just drop it and they all sing along. Also, good Bay Area tracks: a good Mac Dre anthem like "Feelin' Myself."
How do you feel about people asking for requests?
It's always been happening since DJs existed, people want to hear a song, but they don't seem to understand that it's a request. It seems like there's some kind of entitlement now. People get mad when I say I'm not taking requests. My favorite is when people hold up an iPhone with the name of the song on it and flash it in your face. I just reach over and say "yeah, let me see that" and take their phone, look at it, and then put it in my pocket for like 5 minutes. That's a good one.
There is a way to request properly. Just introduce yourself and say "please" and "thank you," that's all you have to do. When people come up and just scream at me I wonder, "is that how you order a drink?" Maybe they do, but the bartender's not gonna serve you.
What is up next for you?
I'm actually working with Hottub's Jason Stinnett on a new party at Milk for second Saturdays called "Bump." It's gonna be classic 90s hip hop, funky house, and hip house. I don't know how it's gonna work for that neighborhood. We're gonna keep it more on the approachable side at first but that's definitely the vibe we're going for.
I'll also be DJing the Lowbrow Tsunami Relief party on May 20. It's cool because Lowcard is involved too. I love doing stuff that can involve the skateboarding scene and club scene because I am equally passionate about both. There's gonna be a mini-ramp competition. I'm thinking about doing an all-out skate-punk and hardcore set; people would be hella into it. I don't think people would expect it either since people in the skate scene who know I DJ think I'm all hip hop. It's at Club 6, an awesome spot.
Catch DJ Kool Karlo spinning the LOWBROW Tsunami Relief Party on Friday, May 20 at 9pm at Club Six. Keep up with his other gigs via Twitter @koolkarlo.